Launched in New Zealand by Walter Langlois – Response to Accelerating Pipe Specs
NAPIER, HAWKES BAY, NEW ZEALAND -

(
EINPresswire
via
NewMediaWire
) - October 19, 2015 - The world's first robotic plasma system Orpro 600 capable of handling all pipe and structural profiles without breaking stride is now available from its developer, Walter Langlois of
Machinery Services
in New Zealand's Marlborough region.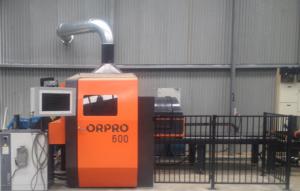 The new system was developed by Walter Langlois in conjunction with Stevensons Structural Engineers of Tokomaru.
The Orpro 600 cutter handles and copes seamlessly both profile and pipe. The new machine is a response to the increasing proportion of major public structure tenders that now specify pipe.
At the core of the Orpro 600 is software that eliminates the intermediary re-tooling steps involved in the traditional machining in switching between pipe and profile. The Orpro 600 consolidated cutter does the work normally done by five different machines. It is standard on eight axes.
Max Farndale
Manufacturers Success Connection
64 6 870 4506

The news, reports, views and opinions of authors (or source) expressed are their own and do not necessarily represent the views of CRWE World.