Teacher-Created App Uses Revolutionary New Design to Help Kids and Parents Read and Succeed in Third Grade
WASHINGTON, D.C. -

(
EINPresswire
via
NewMediaWire
) - October 19, 2015 - In response to parents and educators helping children improve third grade reading skills, author and educator Stacie Hutton has launched the 3rd Grade Reading Comprehension app, using the best research-based classroom practices with intuitive features to help performance and keep children on target with third grade reading levels.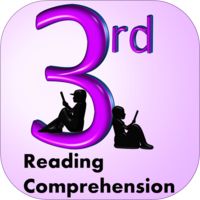 "Reading comprehension apps need to be improved," says Stacie Hutton. "These are often bought by parents desperate to help their child become a better reader, but what they are getting may not be the best help." Hutton believes that reading apps desperately need improvement to reflect the best practices that teachers use to help kids become better readers. "The passages are too broadly written like encyclopedia entries failing to do what a passage should – encourage further, lifelong reading," says Hutton. "'Gotcha' and 'sudden death' type methods to ask comprehension questions instead of doing what teachers do: setting purpose to the reading by letting kids see the questions." Hutton also firmly believes that "the kids, parents, and teachers do not need to change. The software needs to change."
Third grade is seen as the most important year of a student's academic career, marking the point where they begin to "read to learn" versus "learn to read." Studies have shown that a third grader who lacks reading proficiency is more likely to become a high school dropout.
3rd Grade Reading Comprehension is designed to analyze the data and produce a simple, understandable, actionable report. To add reliability, realistic practice tests collect data in near-test like conditions. This balance helps maintain children's interest with the ability to concentrate.
Design lead Stacie Hutton has a unique combination of holding a Master's Degree in Education and being an award-winning author. Stacie has won six national awards for her writing including the Moonbeam Award and the Mom's Choice Award. Stacie was also a nominee for the State of Ohio Teacher of the Year Award. As a founding member of Reinvent Recess Digital, LLC, Stacie is realizing a dream of being able to help children by applying technology to education.
What 3rd Grade Comprehension users can expect:
- 2nd and 3rd Grade Chapters: Questions covering plot, setting and characters, as well as inference type
- Quality Passages: Engaging, high interest passages written by an award-winning writer designed to build lifelong reading skills
- Best Educational Practices: Pre-reading activities to build purpose for reading. Students learn the same way they do in a classroom, connected to core curriculum
- Detailed scorecard for teachers and parents recognizing the type of questions the student answered correctly and incorrectly
3rd Grade Reading Comprehension has been recognized for its excellence at statewide reading and technology conferences, created by a trained educator and designed to build and encourage lifelong reading skills. The app is available
on iTunes
.
Burke Allen
Allen Media Strategies, LLC
703-589-8960

The news, reports, views and opinions of authors (or source) expressed are their own and do not necessarily represent the views of CRWE World.