Founders teen twin filmmakers, Carson and Carrington Bennett welcomes their official sponsor DCH Simi Valley Toyota and Maze Runner star as guest speaker
HOLLYWOOD, Calif. -

(
EINPresswire
via
NewMediaWire
) - October 20, 2015 - ANNOUNCING THE SECOND ANNUAL C&C TEEN HOLLYWOOD FILM FESTIVAL
Co-Founded by teen twin filmmakers, Carson and Carrington Bennett. The Second Annual C&C Teen Hollywood Film Festival is sponsored by DCH Simi Valley Toyota and premier sponsors
Angela Bassett
and
The Earl Jones Institute.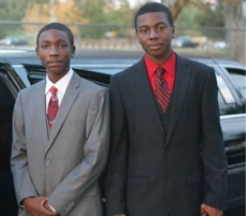 Returning for it's second year the C&C Teen Hollywood Film Festival (CCTHFF) will take place at the Madrid Theatre known for their world class art, cultural events and entertainment.
CCTHFF continues to encourage teen filmmakers and young aspiring entrepreneurs by supporting and celebrating their independent voices through film. Submissions from filmmakers ages 13-19 have come in from around the world. The festival will host screenings from these talented youth, with awards to be presented in multiple categories for outstanding achievement in filmmaking. Recognized will be short films; drama, comedy documentaries and music videos. The awards will include the Best Of Show presented and sponsored by the nationally recognized and prestigious Latino Art Beat. Other awards will be sponsored by major companies such as G-Technology and XFactor Films.
This year's festival theme is "Celebrating Youth Creativity". The event is set to take place on November 7, 2015 at the Madrid Theatre, located at 21622 Sherman Way, Canoga Park with screenings beginning at 2 pm, followed by the red carpet starting at 5:30 p.m. with awards and celebrity gala immediately following.
Scheduled speaker will be Dexter Darden, currently starring in the box-office hit
Maze Runner
, who will share his insight and experience with the teen directors, producers, writers and actors. Other scheduled celebrities in attendance will be Angela Bassett (American Horror Story), Lorraine Toussaint (Rosewood, Orange Is The New Black), Tichina Arnold (Survivor's Remorse, Everybody Hates Chris), Reno Wilson (Mike & Molly), Leah Lewis (Gamer's Guide to Pretty Much Everything, Camp Fred), Clifton Powell (Ray), and recording artist Heart Hays ("Straight For The Heart"). Other young Hollywood actors and recording artists, to be confirmed, will also be in attendance as well as industry professionals who have served as mentors.
Twin brothers, 16-year old Carson and Carrington Bennett, who attend Granada Hills, iGranada Digital Arts & Sciences High School, created the festival to give young filmmakers and future business entrepreneurs an opportunity to hone their skills as aspiring businessmen and women. Their dream was to create a film festival run entirely by teens and for teens. These teens are developing skills and being mentored in areas such as marketing, promotion, fundraising, social media, in addition to production, sound, editing and photography.

To kick off the evening, the gala will feature "The It Factor Performing Arts Troupe" with an "Oscar style" musical performance. The gala will also include a reception for the participants, and a silent auction to benefit "They Can't Talk But We Can, which supports children with disabilities and "The City Of Angels Scholarships" which support college students.

TICKETS:


Tickets to the film screening at 2:00 pm are $8.00. Advanced tickets to the red carpet/gala are $20.00 for adults and $10:00 for students 10-17-years old. Under 10 years old admitted free. Gala tickets may be purchased at the door for $30.00 for adults and $20.00 for students. Advanced tickets may be purchased on the C&C Teen Hollywood Film Festival Website
www.ccteenfestival.com

ABOUT CARSON BENNETT.
Carson discovered his love for the camera through photography. He has had the opportunity to photograph red-carpet events, run lighting boards for stage productions, shoot B-roll for music videos, and serve as a videographer and cameraman on several independent projects. Most recently, Carson produced the short film, The Museum Of Unnatural Gaming, which was featured at Holly Shorts and The Albany Film Festival as well as the prestigious Los Angeles Film Festival. In addition, Carson produced a PSA for the non-profit organization, They Can't Talk But We Can, featuring Retha Grey from Betty White's Off Your Rocker. He was also on the production crew for the TV pilot Club Santino, and was camera operator on the PSA for World Trust.


ABOUT CARRINGTON BENNETT.
Carrington has enjoyed both sides of the camera. As an actor, he appeared in commercials for Burger King, V-8, a Fox television pilot, guest starring roles, and had a featured role in the movie, Horrible Bosses (where he portrayed the younger version of Jamie Foxx's character). Behind the camera, he was on the production crew of the TV pilot Club Santino, two PSA's, and recently wrote and was co-director for the short film, The Museum Of Unnatural Gaming. Carrington is a skilled editor and experienced in software programs Final Cut Pro, Adobe Premiere and Adobe
Photoshop. Carrington was also recently commissioned to create the logo for a top Hollywood Production Company. The Bennett brothers have recently launched their internet and film production company, Cloud Cinematic.

Janis Powell
Wild Orchid Industries
818-527-1773

The news, reports, views and opinions of authors (or source) expressed are their own and do not necessarily represent the views of CRWE World.