Prescott, Arizona's Casa di Buona Fortuna, a 10,422-square-foot Tuscan grand villa, defines "responsible luxury."
PRESCOTT, Ariz. -

(
EINPresswire
via
NewMediaWire
) - October 25, 2015 - Casa di Buona Fortuna—a one-of-a-kind luxury home located in Prescott, Arizona—has recently been offered for sale. It is unique for its amalgamation of classic Tuscan-style architecture, "smart" luxury features, and its sustainable, green design and construction.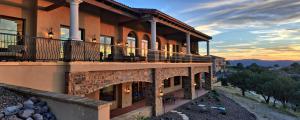 Completed in March 2015, the 10,422 square-foot Tuscan grand villa sits atop a ridgeline in Arizona's Central Highlands, with views of the Bradshaw Mountains and government-protected desert below. Design details include groin-vaulted ceilings, intricately corbelled beams, custom tiling, inset French doors, rich wood paneling and wrought-iron fixtures.
Other amenities include a magnificently appointed master suite, plus two private guest suites, two technology-empowered offices, a wine room, exercise facility, game room, six-car garage and shop area. The theatre room—a faux Tuscan courtyard complete with "starry night" ceiling and fountain—has its own bar area, as well as a 120-inch projection screen and reclining theatre lounge chairs. Two elevators provide quick and private access to the garage, salt-water pool, spa and sauna—one near the master suite, the other near the guest suites. Almost 4,000 square feet of magnificently appointed patio and deck space are available.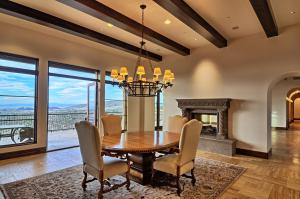 Smart features enable the owner to control the lighting for any room or the entire house from a touchpad in any room, or from a mobile device. Similarly, temperature and humidity levels can be precisely set for any of 30 climate zones, while the system continuously monitors air quality. Audio and video equipment and surveillance cameras can be controlled from a touchpad or smartphone application. Windows dim with the intensity of the sun; snow and ice are automatically melted from the driveway, decks and walkways.
The vision of California Southern University Founder Dr. Donald Hecht, Casa di Buona Fortuna has achieved Gold LEED Certification from the United States Green Building Council and is constructed of recycled, recyclable, renewable and non-toxic materials. Its 72 solar panels are capable of generating 16,000 watts of electricity on a clear day. Heat is provided via a ground-source heat-exchange system. Thick, insulated exterior walls allow the home to operate at an astounding 99.8 percent energy efficiency.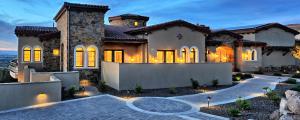 For more information or for a virtual tour of Casa di Buona Fortuna, visit
www.LEEDCertifiedResidence.com
.
Contact:
Domestic Real Estate Agent
Katy McQuade
Reserve Builders
(928) 925-8225
Ktmcquade1@gmail.com
International Real Estate Agent
Frank Aazami
Sotheby's International Realty
(480) 266-0240
faazami@gmail.com
General Inquiries
Sherilani Garrett
(714) 882-7862
sgarrett@calsouthern.edu
Katy McQuade
Reserve Builders
(928) 925-8225

The news, reports, views and opinions of authors (or source) expressed are their own and do not necessarily represent the views of CRWE World.