Edwardsville-based law firm, Gori Julian & Associates, P.C. raises $16,222 for mesothelioma research at Oktoberfest event
EDWARDSVILLE, IL -

(
EINPresswire
via
NewMediaWire
) - October 25, 2015 - Edwardsville-based law firm,
Gori Julian & Associates, P.C.
today announced that it raised $16,222 for mesothelioma research at the recent Oktoberfest event it co-hosted with Global Brew in Edwardsville City Park. The proceeds will be donated to the Mesothelioma Applied Research Foundation (MARF). Global Brew donated $2,500 of that total from beer sales with the remaining funds being raised from sponsorships, a raffle for a trip to Germany and other activities at the event.

MARF works to support families and victims of Mesothelioma through education, advocacy and research. In basic medical terms, mesothelioma is a rare cancer in which cells of the mesothelium (a membrane that covers and protects most of the internal organs of the body) become abnormal and malignant. The known cause of mesothelioma in the United States is asbestos.
"We had a great time organizing this event and pulling in the interests of so many area residents who wanted to stand by our side in supporting the fight against mesothelioma," said Randy Gori, founding partner at Gori Julian & Associates, P.C. "We are thrilled at the turnout of our partnership with this event, and plan to do it again next year with even more enthusiasm so we can help spread awareness for this important cause."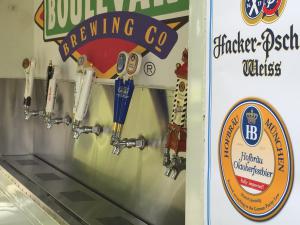 Oktoberfest was punctuated with live music from Larry Haller and ÜberCool, a photo booth with themed props and an onsite raffle that tempted Oktoberfest visitors with a seven-day trip for two to Germany with brewery tours – all compliments of Gori Julian & Associates. Local resident, Sam Guarino, was the winner of the raffle.
"We were excited to co-host this year's Oktoberfest with Global Brew, and look forward to working with them again next year on a much bigger scale as a way to raise funds for continued research and advocacy for those suffering from mesothelioma," said Gori.
Gori Julian & Associates has recovered more than $1 billion in compensation for those suffering as a result of asbestos exposure. Although the attorneys at Gori Julian & Associates concentrate on asbestos-related injuries, they also handle cases in occupational disease and pharmaceutical litigation. For more information on the areas of law practiced by the attorneys at Gori Julian & Associates, or to contact an attorney at the firm, visit
www.gorijulianlaw.com
or call toll free at 888.362.6890.
Gori Julian & Associates, located at 156 North Main Street in downtown Edwardsville, was formed in summer 2008 by Randy Gori and Barry Julian. For more information, please call 877-456-5419 or visit
www.gorijulianlaw.com
.
Randy Gori
Gori Julian & Associates
888-362-6890

The news, reports, views and opinions of authors (or source) expressed are their own and do not necessarily represent the views of CRWE World.