CITY OF GOLD COAST, AUSTRALIA -
(EINPresswire via NewMediaWire) - August 12, 2015 - Benjamin Bool wants your next trip to be one that you'll remember by connecting you with people instead of travel posters. The trouble with travel to other countries is that it often fails to be unique. Everyone who heads out of his or her own country to be introduced to other parts of the globe is seeking memories that will last long after the visit ends. Sending a postcard back home just can't convey the amazing experience of traveling to another country and getting to know the land and its people. So Ben has figured out a way to personalize the experience by developing an app—which will soon be available for downloading—that lets residents who know their cities well connect with travelers who want to sample the local experiences that aren't a clone of everyone else's copy-cat itinerary. The name of this dynamic travel program is idargo.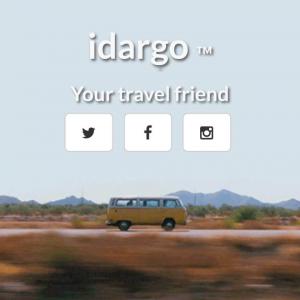 As apps go, this one is particularly inviting. Tourists who are yearning for travel that provides a personal touch meet local residents and expatriates who are earning money as home-town travel guides eager to introduce their new-found foreign friend to the beloved sights, sounds, tastes, smells and appeal of the countries in which they live. Ben's Kickstarter crowdfunding campaign has been launched to raise funds to support idargo's marketing promotion.

The crowdfunding goal is to raise $40,000 by September 2. Ben has taken care of the legal aspects of idargo; the trademark, terms and conditions and privacy stipulations are in place. His next goal is to publicize this opportunity so that people in all parts of the world will sign up to be buddies; in order for this app to be effective, Ben says, "I feel they need a great platform of buddies to choose from."

Idargo's free travel app, which will be available soon on Google Play and the App Store, will provide travelers with the opportunity to search and connect with people who live in the countries the travelers are visiting, and see their destinations as real places and not just posters on the walls of travel agencies.

South Africa's Monique explains that she wants to be a buddy so that she can showcase her country's incredible scenery and atmosphere, while at the same time, learning about her guest's culture. "I get so frustrated when foreigners come here for a limited time and do and see all the wrong things." Australia's Yogi, who has lived by the ocean all his life, extends an invitation to visit Sydney. "Skip the tourist hype and come aboard with me. I'll make you first mate for the day." Canada's Kaitlyn appreciates the earning potential offered by idargo. "idargo will let me fill in some spare time I have and earn money! I am offering a local's café visit and walking tour around Toronto city."


Registering to be a buddy is easy. You'll share your local experience and adventure and get paid for it. No adventure is too big, no experience too small. Ben says of prospective buddies, "Simply be yourself. Remember, your normal is someone else's amazing!"

Travelers, including backpackers, first-timers, families, tourists going the solo route, businesspeople and the elderly all share a common wish: they want their visit to another country to be enriching. They've read the travel guides, they know the tourist places to see, but they want something more. Buddies who live in the countries can provide that personal touch, create international friendships that have the potential to last forever, and serve as informal ambassadors for their countries. Whether showing off their homeland's ballet, bars, or beaches, buddies will be able to imprint themselves onto the invisible passports of travelers that they meet.

About idargo
idargo (www.idargo.com) was born out of Benjamin Bool's passion for travel, his years of experience as an Airbnb host, and the concept of connecting locals with travelers. Idargo customizes your travel memories, thanks to a free app that gives you the power to search, connect and experience a new world of travel from locals and expatriates all over the world. Available on Google Play and the App store, this app will soon be available for download. Many travelers are yearning for more than a check-list of landmarks they've seen and places they've visited. With idargo, travelers have access to a new tool that unlocks an exciting world of travel that's as diverse as the people who use it.
Benjamin Bool
idargo
www.idargo.com

The news, reports, views and opinions of authors (or source) expressed are their own and do not necessarily represent the views of CRWE World.