PANAMA CITY, PANAMA -

(EINPresswire via NewMediaWire) - August 6, 2015 - Agribotix-U.S. of Boulder, Colorado and Eco BCG of Woodbury, Minnesota today announce their Joint Venture in launching Agribotix-Latin America, offering state-of-the art unmanned drone flights and cloud-based data and imaging analytics for the agricultural market. Agribotix-Latin America's headquarters are in Panama City, Panama with additional offices in Mexico City and Santiago, Chile. Drone sales, flight training and services and technical support will be offered throughout Latin America by both authorized dealers and direct personnel.


Landowners and agriculture producers across the world are using unmanned drone flights above their fields to provide them precise information and imaging to more rapidly and efficiently optimize their crop yields. The ability to use "eyes in the sky" helps owners save valuable time and costs to determine at any given time the appropriate use of water, fertilizer and other inputs, manpower and farm equipment at any specific location. The goal of drone technology is to provide faster, more actionable intelligence that can reduce costs and risks while improving yields and income. Agribotix-Latin America will offer two types of drones with their data services as well as offer the same analytical services for those who already own and operate their own drones.
"Using this new technologies we can deliver not only the best optimization of your resources, but also help you reduce the environmental impact they cause. This is the new era of the precision agriculture" Dr. Sergio Castillo from Agribotix LatAm noted.

Landowners, crop operators, agronomists and authorized dealers will be able to directly download their drone camera images directly through the Agribotix-Latin America web site (http://latam.agribotix.com/) in order for Agribotix specialists to create high resolution images and intelligence in a matter of hours for analysis and use back in the field.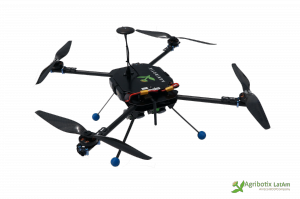 Two different packages of images and data analytics will be offered - Basic and Professional. Professional will be more valuable for those landowners using variable rate application or seeding methods whereby drone data can be downloaded into field tractors for specific input applications. Basic package includes: geo -referenced map of crop health and high resolution RGB Orthomosaic map . Professional package includes: Basic Package and vector map geo referenced management zones being used with other program like SMS or SST and others for making a variable applications map used tractors

Contacts
For press information, please contact:
Estela May Sánchez
esanchez@ecobcg.com
(507) 396-2042

For interested customers and dealers, please contact:
Milquiades Gaitan
mgaitan@ecobcg.com
(507) 396-2042

About Agribotix-U.S.
Founded in Boulder, Colorado in 2013, Agribotix delivers agricultural intelligence to increase yields and profits using drone-enabled technologies. Agribotix offers two core solutions: a turnkey package which includes a long-range drone designed for agriculture, coupled with a leading cloud-based data analysis and reporting solution; and, for customers that have a drone, an affordable, self-serve data processing and analysis service. Both solutions provide customers with actionable intelligence that results in substantially reduced field inputs, improved yield and increased profits for growers. Data products include zone maps to aid in precision fertilization, weed reports for geolocating resistant patches and estimating coverage, and specialized reporting. For more information, visit www.agribotix.com.

About Eco BCG
Eco BCG® is a multinational company whose corporate mission is to provide technology solutions and economic growth to an environmentally sensitive world.
Founded in 1999, Eco BCG® develops and manages projects for governments and private industry to solve their most expensive operating and environmental issues: reducing energy consumption, generating sources of power, diverting landfill waste, treating water systems without chemicals, and improving agriculture practices. By delivering proven innovation, we help clients increase the value of their existing assets and better manage risk and costs. For more information, visit www.ecobcg.com or call (703) 434-0059 (U.S.).

Estela May Sánchez
Eco BCG
(507) 3962042

The news, reports, views and opinions of authors (or source) expressed are their own and do not necessarily represent the views of CRWE World.