DUBAI, UAE -
(EINPresswire via NewMediaWire) - August 6, 2015 - A spectacular image of the Dubai skyline, captured by UAE-based photographer Anique Ahmed, has been awarded first prize in the inaugural International Fine Art Photography Awards (FAPA) announced recently in London.


"Glacial Storm," which depicts Downtown Dubai shrouded in the late morning fog, was awarded top spot in the panoramic category of the global photography competition. Photographer Anique, a graduate of the Bachelor of Architecture program at Canadian University Dubai, also used his talent for capturing stand-out structural design to take third place in the Architecture category, with a striking image of Dubai Autodrome.

A rising star in the Dubai photography scene, Anique has taken much of his artistic inspiration from Dubai's cityscape. His image "Rolling In," a shot of fog covering Dubai Marina, was featured in the first edition of "Muy Visual Interesante," a magazine in Spain that has been launched to publish spectacular images from across the globe.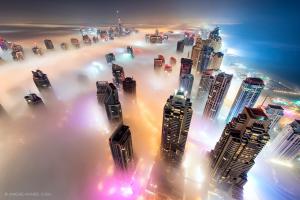 Anique explains, "There is always something new and interesting coming up in Dubai; the city is expanding and in a big way. The Burj aside, there is a lot of fascinating architecture around; you just have to explore and see things from different perspectives. Sometimes the least prominent building can have an interesting detail, like the Dubai Autodrome, where I focused on bringing out the main element of the design to give it a futuristic as well as abandoned look, to produce my image 'G'."

Talking about the challenges of getting that perfect shot, Anique says, "For photographers, it's all about being in the right place at the right time, and of course, with your equipment. We set out one morning knowing there would be fog and got ourselves to the roof of a tower. I could have had a good night's sleep instead, but coming back home with this image was a trophy to me. It really pays off to see my images featured and published after knowing how much effort has been put into capturing and creating them."


Already boasting several national and regional accolades, his latest success at FAPA has propelled Anique into the international fine art photography community, where he stood out among over 3,000 submissions from 77 countries around the world to take the competition title.

Reflecting on this latest success, Anique concludes, "This is the first time I have taken part in an international fine art photography competition and I am happy and honored that my entries were recognized. Being awarded gives me motivation and confidence, as I only recently started learning how to process fine art images and am working hard towards sharpening my skills."

More of Anique's award-winning photography can be view at www.anique-ahmed.com
Rachel Lloyd
Canadian University Dubai

97147096802
The news, reports, views and opinions of authors (or source) expressed are their own and do not necessarily represent the views of CRWE World.