Chris White, Atmocean COO, will be presenting the Atmocean business plan to pre-selected investors at AquaTech 2015 in Amsterdam.
AMSTERDAM, THE NETHERLANDS, -

(
EINPresswire
via
NewMediaWire
) - November 2, 2015 - Atmocean has been selected to present to over 25 investors at this week's AquaTech Conference in Amsterdam, The Netherlands. In its competitive assessment of new water technologies, AquaTech - the leading global water conference attended by 18,000 professionals – selected Atmocean's zero-electricity reverse/osmosis (ZER/Otm)
desalination
system as a leading water technology innovation of 2015.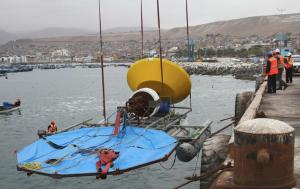 The ZER/O system produces fresh water from
wave energy
by integrating Atmocean's wave-driven offshore array of seawater pumps with the renewable energy desalination module produced by Elemental Water-Makers of The Netherlands. With this combination, ZER/O can operate entirely off-grid and supply fresh water for remote coastal or island communities, as well be used to drip-irrigate coastal deserts to grow agricultural crops and absorb
atmospheric CO2
.

The Atmocean system also has future applications to generate electricity from wave energy, supply aquaculture facilities, and even help remove plastic micro-particles from the ocean. According to Philip Kithil, Atmocean CEO, "The first use of ZER/O will be to drip-irrigate coastal deserts, growing agricultural crops which drawdown atmospheric CO2. The need for lessening atmospheric CO2 levels is critical and the scale of this problem is massive. Our projections indicate this market alone could result in installation of over 100,000 systems in the coastal deserts worldwide by 2035. With that volume, our costs will drop dramatically, opening up the wave-driven electricity market which currently is not economically feasible for any wave energy system."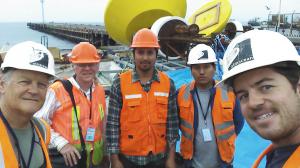 Arrays of the Atmocean seawater pumps are anchored in 20m water depth typically 1km to 3km from the coast, sending pressurized seawater onshore to the ZER/O desalination module. The Atmocean system has undergone over 90 days of sea trials, nearly two weeks of wave tank testing, and received seven technical grants from Sandia and Los Alamos National Laboratories as well as Oregon Wave Energy Trust and the UK Technology Strategy Board. Last week, Atmocean successfully began phase 2 of its full-scale ocean testing demonstration program at its permit area in ILO Peru.
Atmocean will be represented at AquaTech by Mr. Christopher White, the company's new Chief Operations Officer (COO) who indicates "I am excited to discuss with investors how Atmocean can dominate this new "CO2 drawdown" market to help stabilize the global climate."
For more information, visit
www.atmocean.com
or contact atmocean.information@gmail.com
Atmocean Inc
Philip Kithil
505-310-2294

The news, reports, views and opinions of authors (or source) expressed are their own and do not necessarily represent the views of CRWE World.