Premier Traveler Worldwide Continues to Celebrate Women that inspire us from Around the Globe by honoring the 20 "Most Compelling Women in Travel"
NEW YORK -

(
EINPresswire
via
NewMediaWire
) - November 2, 2015 - Join Premier Traveler as we reveal the 20 "Most Compelling Women in Travel." Below are brief introductions to truly inspirational women who are making a difference right now. Throughout the coming year, Premier Traveler will elaborate on their stories through in-depth interviews and surveys. With these efforts, we hope to accelerate the dialogue on sensitivity, awareness and diversity that make for a better experience for everyone. Since 2013, when PT won the Society of American Travel Writers (SATW) award for "Best in-depth coverage on travel related theme: Series on Women in Travel," the magazine has continued to stimulate our readers with these uplifting stories.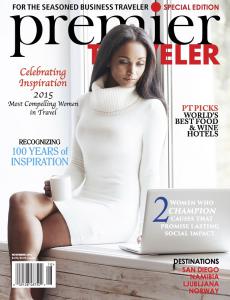 Gold Standard: Second time on the list
Rosemarie Andolino
CEO and President, Manchester Airport Group, US
Katherine August-DeWilde
President and Board Member, First Republic Bank
Melanie Brandman
Founder and CEO of The Brandman Agency
Ann Cairns
President International Markets, MasterCard
Judy Cameron
Captain, Air Canada
Dominique Colliat
Chief Operating Officer North, Central Americas & Caribbean, Accor Hotels
Elise Eberwein
American Airlines, Executive Vice President, People and Communications
Janet Forman
Journalist and Film Producer
Mariana Garcia Garza
Emirates Airline, Pilot
Chris Greenhalgh
IHG, Director, Global Campaign Planning & Communications
Park Guen-Hye
President of South Korea
Vanessa Hudson
Qantas Airways, Senior Executive Vice President, The Americas
Lisa Markovic
Qatar Airways, Country Manager – USA
Keija Minor
Brides Magazine, Editor-in-Chief
Christina Ong
COMO Hotels and Resorts Owner
Diana Postemsky
American Express Global Business Travel, Vice President, Corporate Affairs and Communication
Tricia Primrose
Marriot International, INC., Global Chief Communications & Public Affairs Officer
Andrea Robinson
Delta Air Lines, Master Sommelier
Anna Thompson
Cathay Pacific, Director of Flight Operations
Michelle Vink
Founder of PR, Branding & Production Agency, Vink Media
Premier Traveler (PT) was created as an outlet for its readers' voices to be heard. Perpetually on-the-go (both domestically and abroad), with high expectations and a taste for luxury, Premier Traveler readers always have something to share—a personal experience, an opinion, a suggestion, a question—and PT was designed to listen and to get the answers they need.
The open dialogue doesn't stop with letters and emails from readers. Premier Traveler goes one step further by creating frequent questionnaires on a variety of topics, allowing the editorial team to inject the magazine's content with valuable and relevant insights.
As perennial global travelers, PT readers demand premium products and services but can still appreciate a good deal. That's why they turn to Premier Traveler for the latest travel news and information, while also learning about exciting promotional offers and losing themselves in candid hotel and flight reviews. This is part of what makes Premier Traveler more than just another magazine, but one that shares a personal connection with its readers.
AWARD WINNING JOURNALISM
• 2013 "Best Magazine Article: U.S. Travel"
• 2013 "Best Magazine Article: Foreign Travel"
• 2013 "Best Business Travel Media Award"
• 2014 "Bill Muster Gold Award: Cultural Category"
• 2014 "Best Magazine Article Foreign Travel: The World's a Stage"
• 2014 "Best Magazine Article Foreign Travel: Lisbon's New Lease on Life"
• 2014 "Best in-depth coverage on travel related theme: Series on Women in Travel"
• 2014 "The Business of Travel, Second Place: Meet in the Cloud Forest"
• 2014 "Best Photography, Action, Second Place: Shark Tank (Dubai)"
• 2015 "Best Magazine Article: Romance"
• 2015 "Best Magazine Article, Second Place: Food and Wine"
Julia Rodriguez
Premier Traveler Magazine, JARP Publishing LLC
917-551-6623

The news, reports, views and opinions of authors (or source) expressed are their own and do not necessarily represent the views of CRWE World.