Educational and inspirational masterminds to share their expertise for real-world solutions. Tickets on sale now
NEW YORK -

(
EINPresswire
via
NewMediaWire
) - November 3, 2015 - Internationally acclaimed speaker and former NFL football wide receiver (Seahawks, Redskins, Colts),
Trent Shelton
will present at the
Unlock Your Dreams Conference
on Nov. 14, 2015. The event will be held from 2 P.M. - 6 P.M. at the Mist Harlem Theater, 46 W 116th Street, New York, NY.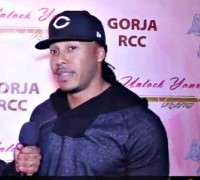 The conference features an array of exceptional talent and community vendors. Along with Trent, best selling author and trainer, Lucinda Cross, William "Billy" Council, Glenise Gomez, FloydLittle's Double Dutch Team, drumming, and dancing performances are on the venue. Tickets are on sale, but limited. The conference is expected to sell out.
The online registration fee for the Unlock Your Dreams Conference is $55. Discounts are given to purchases of 10 or more tickets at one time. Individuals wanting to participate in the Unlock Your Dreams Conference are encouraged to register at
http://www.unlockyourdreams.info
.
Trent Shelton, who is the founder and president of the non-profit organization Rehab Time, has been seen on ABC, NBC, CBS and other networks across the globe. The 2007 Baylor University graduate has a degree in Speech Communications and has co-authored 4 best-selling books with Baylor Barbee.
"The Unlock Your Dreams Conference is where participants are equipped to walk away with an 'I can do anything,' mindset," explained Producer, Lytoya Parker. "People from all walks of life will showcase how they conquered unimaginable obstacles, and the 'how to get it done' principles used for realizing their potential and purpose. Attendees will be exposed to powerful testimonials from women and men who have been through the process of unlocking their dreams."
"Trent Shelton understands the culture, climate and conditions of his audiences. His zeal and appeal are second to none in the industry because he delivers with unrivaled expertise and connection, stated Briggs, Director of Sponsorships. "He, along with a world-class team of empowerment and relationship experts, will offer life solutions to an audience with a diverse fabric."
Briggs added that the conference also has support from Trent Shelton NYC Stage
Sponsors
.
"Trent is giving away free, autographed copies of his books to anyone who comes on board as a Trent Shelton NYC Stage Sponsor. In tandem, individuals and groups will also receive national recognition in American newspapers and on the social networks. Details can be found at the event's website," she concluded.
Organizers said their aim was to have attendees play an active role in bringing world-class talent to the stage. "We know they are loyal fans of the celebrities' and luminaries. Enthusiastically backing Trent's NYC stage sponsorship and other partnerships is greatly appreciated."
For more information about the The Unlock Your Dream Conference or how you too can get involved, please visit
http://www.unlockyourdreams.info
. For media inquiries, interview opportunities and media RSVPs, please contact LyToya Parker. email info@unlockyourdreams.info or call 718-640-0725.
Fran Briggs
eMediaCampaigns!
206.279.0818

The news, reports, views and opinions of authors (or source) expressed are their own and do not necessarily represent the views of CRWE World.