SMi Group Reports: The 10th annual conference on Paediatric Clinical Trials will return to London on the 16th to the 17th of March 2016
LONDON -

(
EINPresswire
via
NewMediaWire
) - November 8, 2015 - Many treatments of today are the result of past
clinical trials
. The need for improving strategies in conducting
paediatric
clinical trials has never been greater. Even if the costs linked to trials are not always affordable, pharmaceutical industries continue to expand their research.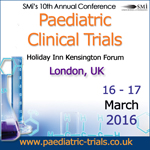 This event will look at the paediatric
therapeutic developments
, directives and procedures which have been put in place to protect children taking part in clinical trials.
For more information or to review the full agenda visit the event website at
www.paediatric-trials.co.uk/ein
Paediatric Clinical Trials 2016 will benefit delegates as they will:
• Be able to discuss the framework of US and EU Paediatric Legislation
• Evaluate approaches for recruitment and retention
• Review the challenges in paediatric drug development developing new oncology drugs for children
• Learn about safety considerations of paediatric clinical trial
• Explore recent developments in paediatric trials in the US
• Study the role of analgesics in paediatric population
• Analyse why paediatric formulation does matter
Confirmed Keynote Speakers for 2016 include:

• Sabine Fuerst-Recktenwald, Senior Medical Director Paediatric Oncology, Roche Pharmaceuticals
• Ellen Bolotin, Global Clinical Leader in Paediatrics, Bayer
• Sangeeta Sedani, Clinical Investigation Lead, GSK
• Albert J. Allen, Senior Medical Fellow, Paediatric Capabilities, Eli Lilly and Company
• Philippe Auby, Vice President of Global Clinical Research Paediatric Neuro-Psychiatry, Lundbeck SAS
• Ronald Rosenburg, Senior International Clinical Lead, Grunenthal
• Kristina An Haack, Clinical Study Director, Sanofi

In addition to the conference attendees will have the opportunity to participate in an exclusive full day pre-conference workshop which will be held on the 15th March 2016. The workshop entitled 'Drug development in the paediatric population' will be led by Klaus Rose, CEO, Klausrose Consulting.
For sponsorship opportunities contact Alia Malick on +44 (0) 20 7827 6168 or email: amalick@smi-online.co.uk
For media enquiries contact Anna Serazetdinova on +44 (0) 20 7827 6180 or email aserazetdinova@smi-online.co.uk
For delegate enquires or to register contact Matthew Apps on +44 (0) 20 7827 1093 or email mapps@smi-online.co.uk
10th annual Paediatric Clinical Trials Conference
16th – 17th March 2016
London, UK
Contact e-mail: aserazetdinova@smi-online.co.uk
Contact number: Tommy King +44 (0) 20 7827 6184
Event Website:
www.paediatric-trials.co.uk/ein
About SMi Group:
Established since 1993, the SMi Group is a global event-production company that specializes in Business-to-Business Conferences, Workshops, Masterclasses and online Communities. We create and deliver events in the Defence, Security, Energy, Utilities, Finance and Pharmaceutical industries. We pride ourselves on having access to the worlds most forward thinking opinion leaders and visionaries, allowing us to bring our communities together to Learn, Engage, Share and Network. More information can be found at
http://www.smi-online.co.uk
Anna Serazetdinova
SMi Group Ltd
+44 20 7827 6180

The news, reports, views and opinions of authors (or source) expressed are their own and do not necessarily represent the views of CRWE World.