Exclusive interview released with Social Media Healthcare Expert, Daniel Ghinn, Founder & CEO of Creation Healthcare
LONDON, UNITED KINGDOM, -

(
EINPresswire
via
NewMediaWire
) - November 9, 2015 - SMi Group is proud to announce that the
8th annual conference
on Social Media in the Pharmaceutical Sector, will be chaired by one of the industry's seasoned authorities in online market research, Creation Healthcare.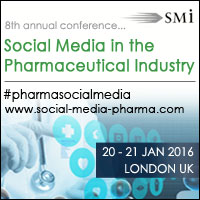 As well as chairing the event taking place in Central London next January, Creation Healthcare's CEO and Founder Daniel Ghinn, will provide an opening keynote address discussing the real perception of social media in healthcare, an industry which is often thought of as conservative. Through the evaluation of global online interaction, the presentation will give attendees made up of senior marketing practitioners and pharmaceutical leaders, guidance on how to strengthen digital platforms.
Creation Healthcare's participation will also include an interactive workshop on social media for market research and business intelligence. The workshop will define how social media can be utilised to segment customers and learn about their unique needs; gather historic data to interpret the impact of change; and monitor customer reactions to leverage insights and transform brand planning.
Daniel Ghinn has been leading and tracking digital health innovation since the late 1990's when he co-founded Creation Healthcare. Since then he has advised many of the world's largest pharmaceutical and health organisations on healthcare engagement in the digital age, including health providers, policy makers, and the World Health Organization.
In 2013, Daniel invented Creation Pinpoint, a service for learning from healthcare professionals in public social media. Built on a proprietary technology platform, Creation Pinpoint analyses to public social media conversations among more than 175,000 doctors, nurses and pharmacists worldwide and is now used by most of the world's largest pharmaceutical companies.

Daniel Ghinn said: "I love SMI's Social Media in the Pharmaceutical Industry [conference] because its clear focus allows participants to really take the time to explore innovation and best practice in the industry. I'm looking forward to connecting with and learning from old and new friends who are working to continually improve pharmaceutical companies' online engagement, to discovering new ideas. I'm excited to be Chairman for the 2016 conference and I'm looking forward to what is set to be an incredible few days of interaction, learning and conversation."
"I see incredible innovation at work in the pharmaceutical industry, often driven by the constraints within which it works. It can be difficult for a company which is not allowed to market to consumers in most of the world to embrace the idea of consumer engagement. But right across the industry, especially in Europe, companies are finding ways to connect with consumers in a way that really adds value to patients and healthcare systems. For me, that's where I see great opportunity for the pharmaceutical industry and where the most rewarding activity is taking place."
When asked about patient engagement, Daniel Ghinn commented:
"Much of my work consulting for pharmaceutical clients on engagement strategy involves connecting different kinds of stakeholders: doctors with nurses or pharmacists; doctors with patients; patients with healthcare systems; pharma with patients. It goes without saying that the patient is at the heart of healthcare; so whether my work involves analysing conversations among healthcare professionals in social media, advising on tactics for policy advocacy, or helping a client to collaborate with a patient group, there is always a direct or indirect component of patient engagement."
The full interview with Daniel Ghinn is available to read in the events
download center
.
For further details on the conference, visit the website at
www.social-media-pharma.com
Social Media in the Pharmaceutical Industry
20th - 21st January 2016
Pre conference interactive workshops
19th January 2016
Holiday Inn Kensington Forum, London UK
http://www.social-media-pharma.com
Sponsored by Synexus
Follow the conversation on Twitter at #pharmasocialmedia
About SMi Group:
Established since 1993, the SMi Group is a global event-production company that specializes in Business-to-Business Conferences, Workshops, Masterclasses and online Communities. We create and deliver events in the Defence, Security, Energy, Utilities, Finance and Pharmaceutical industries. We pride ourselves on having access to the world's most forward thinking opinion leaders and visionaries, allowing us to bring our communities together to Learn, Engage, Share and Network. More information can be found at
http://www.smi-online.co.uk
About Creation Healthcare:
Creation Healthcare develops engagement strategies for healthcare companies and organisations by studying the online behaviours of health stakeholders including healthcare professionals, policymakers and patients. The company's proprietary service, Creation Pinpoint, is the world's leading platform for monitoring healthcare professionals in public social media and is used by 60% of the world's largest pharmaceutical companies to support market research, business intelligence and brand planning.
SMi Group Ltd
Teri Arri
+44 (0)20 7827 6162

The news, reports, views and opinions of authors (or source) expressed are their own and do not necessarily represent the views of CRWE World.