The hybrid system comprises eight vertical axis wind turbines and solar panels fully integrated into an automated battery management and control system
MONTREAL, QUEBEC, CANADA -

(
EINPresswire
via
NewMediaWire
) - November 12, 2015 - The Effect Operational Sales and Systems Group (Effect OSG) announced today that it had completed the first operational deployment of an
Enerdynamic Hybrid Technologies
(EHT) optimized wind and solar hybrid system on the roof of a private home in the Laurentians in Quebec. The EHT system comprises eight vertical axis wind turbines and solar panels fully integrated into an automated battery management and control system. These true hybrid systems, called
EnerCubes
, are new generation wind turbine that feature innovative vane design, along with breakthrough generator technology, making it highly efficient and superior to all current turbine technologies.
The Outback Power management system controls eight 500 watt EnerCubes, 3.8 kilowatt (kW) of solar panels and batteries with 54 kWh energy capacity.
The system is featured at a private home in St-Adolphe D'Howard. The roof mounted EnerCubes boasts impressive features such as
self-start at wind speeds
as low as 1.7 meters per second (3.8 miles or 6.1 kilometers per hour) sustained rotation, low maintenance since the system has no drive shaft, no gear boxes, no brushes, bushings or slip rings; modular design, which allows 'flat-packed' shipping to the deployment site with plug and play installation; scalable, since they can be installed either as single functioning units or grouped together for additional power, low vibration, through the use of precision matched bearings, which are the only turbines' moving parts; and no electromagnetic interference (EMI) since the generator emits a frequency of 14 HZ when operating at its rated output, which is too low to produce EMI.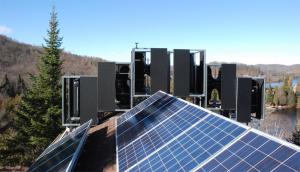 Apart from EHT Operations, which provided stalwart deployment support, O² Globale Énergie, Phase3 Energy and EnShift Power are three of member companies of Effect OSG, which were involved in the hybrid project deployment. Other contributors include Gagnon & Zollner Maîtres Artisans, for system installation and building structure; Triacta Power Solutions, for power monitoring system; and Budget Propane, for gas heating systems, as an alternative to further reduce customers' electrical bills.
Mr. John Gamble, President and CEO of Enerdynamic Hybrid Technologies Inc. stated, "We are most pleased to deliver an advanced wind and solar hybrid resource with key performance parameters." Mr. Paul Dionne, President Effect OSG added that "as a specialist firm in linking client needs to custom fit energy solutions, we felt that introducing this wind generator technology, which turns with much greater ease than traditional turbines, gave our clients a significant edge in using an ultra-efficient wind energy system to be less dependent on electric utilities."

About Enerdynamic Hybrid Technologies Inc.


EHT delivers proprietary, turn-key energy solutions which are intelligent, bankable and sustainable. EHT's energy products and solutions can be implemented immediately wherever they are needed. EHT stands above its competitors by combining a full suite of solar PV, wind and battery storage solutions, which can deliver energy 24 hours per day in both small-scale and large-scale format.

About Effect Operational Sales and Systems Group Inc.


Effect OSG actively markets and sells energy efficiency products that are second to none. Our sales channels are focused on regional markets where people and organizations are proactive in implementing smart energy technologies to meet energy efficiency and conservation goals, with significant environmental benefits and measurable savings. Through the capabilities and geographic breadth of its operating companies, Effect OSG and its Systems Group specialize in the implementation of sound energy efficient strategies through the deployment of energy and renewable products that deliver verifiable savings worldwide.


About O² Globale Énergie Inc.


O² Globale Énergie Inc., Longueuil, Quebec, provides electrical specialists, deployment architecture leadership and energy solutions and services tailored to customers' specific needs in Quebec.


About Phase3 Energy Inc.


Phase3 Energy Inc. is a Montreal based corporation, which delivers energy efficiency and renewable projects in multiple business sectors, including electric utilities. The company leads the Systems Group in the turnkey deployment and commissioning of energy projects.


About EnShift Power Inc.


EnShift Power Inc., Kingston, Ontario, provides energy solutions and services globally to help companies and communities solve energy generation, conservation and management issues for both grid and off-grid requirements.
For more information:
Ms. Manon Paquette, Public relations coordinator, Effect OSG
mpaquette@effectosg.com Tel. (514) 708-8760
www.effectosg.com
Manon Paquette
Effect OSG
514 708 8760

The news, reports, views and opinions of authors (or source) expressed are their own and do not necessarily represent the views of CRWE World.