Fashion & fitness
2021-01-18
Why do I wear a cycling jersey? This has been the most important debating topic amongst cyclists. Whether you are an avid cyclist or new to cycling, you will be confused about "how do I choose a cycling jersey'? Many of the people may wonder what the big deal is, why should you bother getting a perfect bicycle jersey at all when you have a stack full of perfectly fine shirts and t-shirts in your dresser.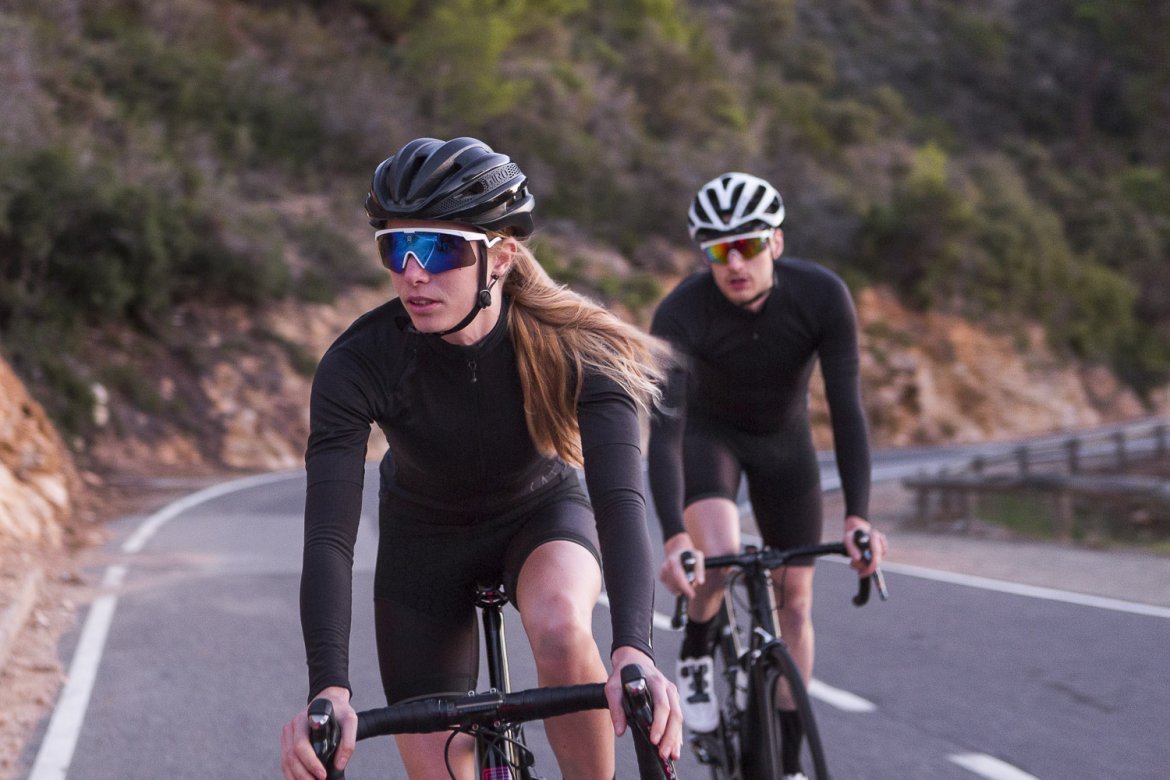 A cycling jersey is the most important part of cycling. The perfect fit and the fabric can boost your cycling experience. A cycling jersey will not only enhance your comfort but also provide you with the necessary protection from harsh weather.
How do I choose a cycling jersey?
Cycling jersey vs t-shirt
T-shirts are for ordinary uses. Regular shirts and t-shirts are completely ok for short, casual rides. But, if you are planning to get more serious with the sports, whether you want to race, ride in long tours, ride for serious exercise, go for mountain rides, then you should seriously consider obtaining a good cycling jersey. These jerseys are designed for providing comfort and protection for the long run.
Here are some reasons you should know why investing in a cycling jersey is the best decision for you.
# 1 Reduce Sweat For a Comfortable, Cool and Dry Rides
It is very obvious that if you ride, you sweat, even if the weather is cool. Most t-shirts are made with cotton fabrics, and cotton is the worst fabric to handle sweat. Cotton collects sweat and hangs on it for long. And if the breeze gets into your t-shirt, the sweat cools down on your body, and you will also get cold. It is a very uncomfortable feeling and you will soon not be able to concentrate on your ride and will feel disgusted about it.
A cycling jersey is made with a special fabric to help you stay cool & comfortable as long as you choose to cycle. It will wick away sweat from your body and help evaporate without affecting the body temperature, making you cool and dry. Polyester is the most common material used for making cycling jerseys.
#2 Protection Against UV Rays
Cycling jerseys offer high-quality protection against sun damage. If you bike a lot on sunny days, it is a good idea to wear a cycling jersey to protect your body from sunburn and skin cancer. When your skin is exposed to UV rays for long, your skin can cause a lot of harsh sunburns and also lead to skin cancer. Also, your skin will be in contact with sweat and UV rays at the same time, making you more uncomfortable. A long sleeve cycling jersey is the best option to protect your skin from UV rays.
Remember the fact that there are many light cycling jerseys available which provide very little protection against the sun damage. So, if you choose a light jersey, do not forget to use sunscreen lotion.
#3 Pockets to Keep Valuables
While going for cycling, especially long rides or races, you might want to carry some sort of things with you. For example, you might want to take your favourite perfume to avoid the pungent smell, or your licence or debit card, or some money. Now if you have to carry any of these or all of these, you need a cycling bag, which again might be too much for a ride.
The solution to this is cycling jersey pockets. Most cycling jerseys have two or three rear pockets where you can put your stuff without worrying to lose them.
#4 Covering Butt Crack
It might seem funny and unrealistic, but cycling jerseys are the best to protect your unsightly derriere from the public. While ordinary t-shirts and shirts are not designed keeping the cycling aspect in mind, so they are not that long. Unless you are riding a commuter or cruiser bike where your body remains in an upright position, your butter crack will be exposed as you bent over to handlebars while you bike.
For this specific reason, a cycling jersey is designed with a longer length to prevent your butter crack and save you from public embarrassment.
#5 Various Fit For Enhanced Performance & Comfort
A cycling jersey can be made of various fitting to increase the comfort and performance of the cyclist. For the ultimate performance, a cyclist can choose the fit he/she is comfortable in. Variation in fitting and size make bike jerseys suitable for various situations which are good for enhancing performance using providing the ultimate comfort. Some of the cycling jersey fit are comfort fit, aero fit, and regular fit.
What is the best cycling jersey?
With all the benefits and comfort that the cycling jersey offers, you can rest assured that your investment in some quality jersey will certainly pay off many times over. If you are looking for the best quality and right fit jersey, reach out to us. We will be glad to serve you the best.
The Views and Opinions expressed in this article are the author's own and do not necessarily reflect those of this Web-Site or its agents, affiliates, officers, directors, staff, or contractors.