Not all cutting boards are manufactured the same. Basically, it starts with the kind of wood that is being used, which immediately makes a big difference. Various kinds of hardwood are of the highest quality and can be used for a cutting board wood. Think of maple, walnut or even ash.
If you presently own only plastic cutting boards, then let us take you on a verbal tour on why a wooden cutting board might be the perfect step up for you in the kitchen.
Natural resources and thickness. Wooden cutting boards are thick. They withstand the test of time. How many times have you replaced your plastic alternatives, only to throw more plastic in the garbage? Choosing for one made with natural resources reduces the amount of plastic disposed of, or could end up in nature only to never decompose, if it is not disposed of correctly. Choosing wood is choosing for less plastics. And because wood cutting boards are so thick, they last for many years to come.
Damaged? No problem. A cutting board gets cut, it's inevitable. The poor bastard has a lot of coping to do, but do not worry. It can handle it. And if the scars become too apparent, then all you have to do, is bring out some sanding paper and you can make it look like brand new. How is that for a lifetime of usefulness with a single purchase?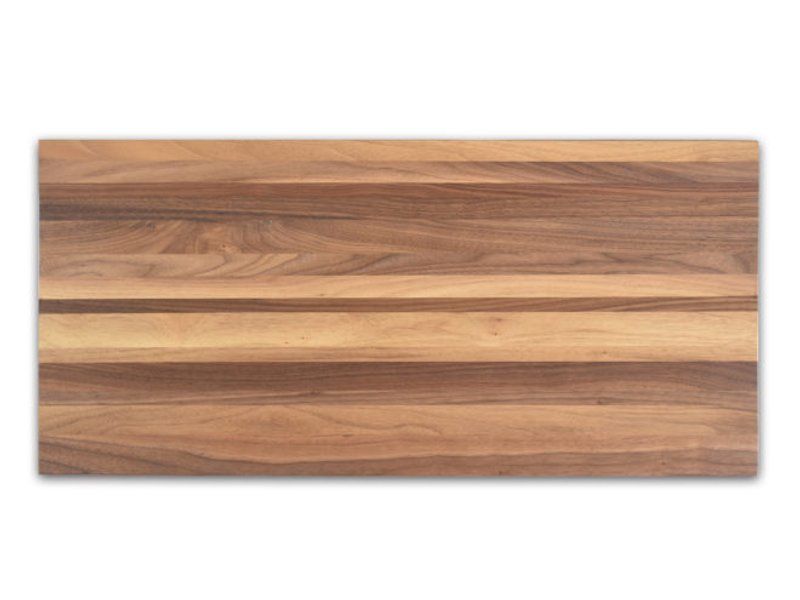 It looks great on your counter. A wood cutting board is a real eye catcher. It will demand attention and simply looks great on any counter top. After some time it will be like a piece of furniture in your house hold.
Selection of Finest Wood
Selecting the appropriate wood is a matter of personal preference. Most manufacturers will already simply produce wood cutting boards from the type of wood that are most suitable. These types of wood are hard woods and will be able to withstand the cutting on the regular. These types of wood will also allow themselves to be sanded and renewed easily. Let's take a look at the most popular choices of wood types used for cutting boards.
Ash: White ash wood is another great option to use. Nevertheless, as with other light wood boards, like maple, it might be in need of a small amount of additional care to keep it from staining or having to sand it a bit more frequently to keep its great look.
Maple: Particularly, there are two types of maple making up for the majority of cutting boards: sugar maple and hard maple. It is a rigid, closed-grain wood which refers to that it is substantial, capable of holding out bacteria, and holds the correct amount of hardness. Maple is relatively light in weight, and also in color. Keep in mind that red maple is toxic. So for the purpose of manufacturing boards, red maple ought not to be used. Since maple is light in color, it is slightly more susceptible to staining. If you prefer a darker wood, we'd recommend walnut instead.
Walnut: Walnut is one of most popular and finest hardwood choices for the manufacturing of a cutting board. A walnut cutting board is a bit less likely to stain, because it's naturally darker in color. Its clear wood grain is one of the major attraction points for those choosing this type of wood as their preference for a wood cutting board. And the hardness of the material is simply perfect too. All in all, making the walnut cutting board one of the most popular of all.
Things to look for
There are wood cutting boards available in many price ranges and many designs. Depending on your budget you may choose for something a bit lower priced, but you must understand the reason why some are cheaper than others.
Usually the lower priced cutting boards are made of small pieces of wood, glued together into a board in the requested size. And while this works perfectly fine in most cases, it is still more likely to break, or especially crack, causing juices to seep into the cracks. As a result it is always better to choose for a wood cutting board that is made of a minimal number of different parts. The wood cutting boards from GOWOOD are manufactured in a way where the slats have the actual length of the board. Hence, only the width is made up of varies slats. It makes for a much better quality board, with better durability, less cracking and not to forget: it simply looks better too.
In conclusion you can say that a cutting board is a great alternative to plastic cutting boards if you hold Mother Nature close. It provides better durability and can be sanded to make it look like new over and over again. A once in a lifetime investment can therefore provide a lifetime long pleasure. And last but not least, it looks great on the counter top and most likely will cause your friends and family asking where you got your cutting board from!
The Views and Opinions expressed in this article are the author's own and do not necessarily reflect those of this Web-Site or its agents, affiliates, officers, directors, staff, or contractors.