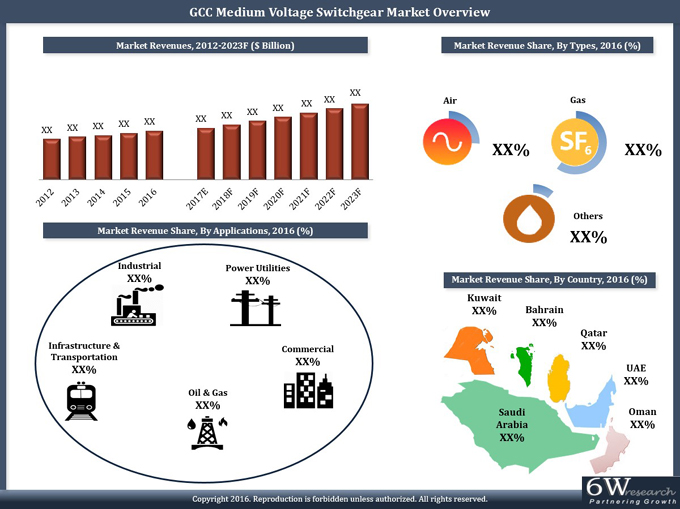 GCC Medium Voltage Switchgear Market to Register Robust Growth with Large Scale Investment in Infrastructure and Power Sectors – 6Wresearch
Increasing infrastructure development activities, rising commercial sector and large scale investments in the power transmission & distribution network are the major factors that would drive the market of medium voltage switchgear market in GCC region.
According to 6Wresearch, GCC Medium Voltage Switchgear Market is projected to reach $1.4 Billion by 2023. Medium voltage switchgear market in GCC has witnessed robust growth over the past five years due to growing electricity consumption and increasing public and transportation infrastructures in the region. During the forecast period, the market of medium voltage switchgear is expected to rise on the back of expansion of power transmission and distribution network and grid connection across the region.
According to Ravi Bhandari, Assistant Manager, 6Wresearch, in GCC region, power utilities sector has captured major revenue share in the overall market, and is expected to dominate the in the forecast period as well. Demand for medium voltage switchgears in power utilities is anticipated to escalate with setup of new power plants and expanding grid network across the region.
"With upcoming global events like World Expo 2020 in UAE and FIFA World Cup 2022 in Qatar, respective countries are investing heavily for development of public infrastructure and power sector. Focus on diversification of the economy, with heavy investments in non-oil sector to reduce their dependency on oil & gas sector is further expected to drive the medium voltage switchgear market in the GCC," Ravi further added.
According to Anuj Sharma, Research Associate, Research and Consulting, 6Wresearch, "although, medium voltage switchgear with voltage rating 11KV and 33 KV are the main drivers of the market in GCC, but segment with voltage rating of 22KV is registering demand in countries such as UAE and Qatar. The vision of each GCC member aiming to increase the renewable energy share would also increase the market for medium voltage switchgear in the GCC region," Anuj Concluded.
Some of the major Comapanies in GCC Medium Voltage Switchgear market Include ABB, Schneider Electric, Siemens, Al Ahliea Switchgears, Al Hasan, Hyosung Corporation, Eaton Corporation etc.
"GCC Medium Voltage Switchgear Market (2017–2023)" report provides in-depth analysis with 185 figures and 13 tables covered in more than 230 pages. The report estimates and forecast the overall GCC Medium Voltage Switchgear Market by insulation, application and country. The report also gives the insights on competitive landscape, companies benchmarking, company profiles, market drivers and restraints.
Source Link: http://www.6wresearch.com/press-releases/gcc-medium-voltage-switchgear-market-gulf-cooperation-council-share-trends-forecasts-size-growth-opportunity-players-media-news.html
For Further details, please contact:
Email Us: sales@6wresearch.com
Call Now: +91-11-430-24-305
The Views and Opinions expressed in this article are the author's own and do not necessarily reflect those of this Web-Site or its agents, affiliates, officers, directors, staff, or contractors.