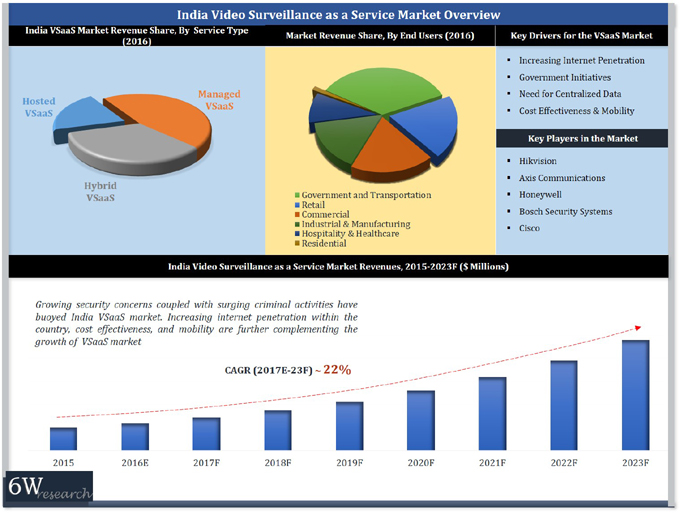 Rising Security Concerns Coupled With Growing Internet Penetration Driving Video Surveillance as a Service Market in India – 6Wresearch
Video Surveillance as a Service (VSaaS)is gaining huge adoption across all the major vertical markets in India, attributed to surge in criminal activities and rising security concerns. The cost effectiveness coupled with remote access of videos via laptop, tablet and smartphones are contributing towards the acceptance of VSaaS in the country. Further, improving internet penetration is complementing the growth of VSaaS market in the country.
According to 6Wresearch, India VSaaS market is projected to grow at a CAGR of 22% during 2017-2023; Managed VSaaS segment captured majority of the market share in 2016, however, with rising adoption of cloud services, hosted VSaaS segment is expected to exhibit highest growth during the forecast period. Further, the government & transportation vertical held highest VSaaS market share followed by the retail and commercial segments.
According to Prijo Samuel, Assistant Research Manager, Research and Consulting, 6Wresearch, "With growing internet penetration in India, the country is witnessing a shift towards VSaaS rather than traditional video surveillance (in terms of hardware). VSaaS eliminates the need for hardware such as NVR, DVR, at customers end, also the maintenance is done at service provider's end. The factors like ease of use, cost effectiveness along with mobility i.e. remote access to video streams are accelerating the VSaaS market growth in India."
"Owing to economical factor and convenience, VSaaS is considered ideal for small & medium businesses and companies with multiple locations who want central management and a shift from capital expenditure to monthly operating expenditures. Additionally, growing organized retail formats in India are posing huge opportunities in VSaaS market," Samuel further added.
According to Suman Gautam (Research Associate, 6Wresearch-India Electronics Division), "Government initiatives such as smart city projects are contributing to the growth of this market. To ensure the safety of people and property, various state governments have mandated to install surveillance systems at public places such as bus stands, railway stations and even at places of worship. Moreover, growing cases of vandalism, theft, terrorist attacks have catalyzed the need for surveillance systems in India."
"Apart from security aspects, the emerging technologies such as artificial intelligence, video analytics are expected to take video surveillance beyond traditional uses. In the retail segment, behavioral pattern analysis of customers, optimization of shop floor plans, merchandise display strategies etc. via data mining of videos generated are expected to be the upcoming VSaaS trends," Suman concluded..
The major companies in India VSaaS market include- Axis Communications, Bosch Security Systems, Hikvision, Honeywell and Cisco.
India Video Surveillance as a Service Market (2015-2023F) report provides in-depth analysis with 33 figures and 10 tables covered in 110 pages. The report estimates and forecast the overall India video surveillance as a service market by Revenues, Service Types, Regions and Verticals such as retail, commercial, transportation & government and hospitality & healthcare. The report also offer insights on competitive landscape, companies benchmarking, company profiles, market drivers and restraints.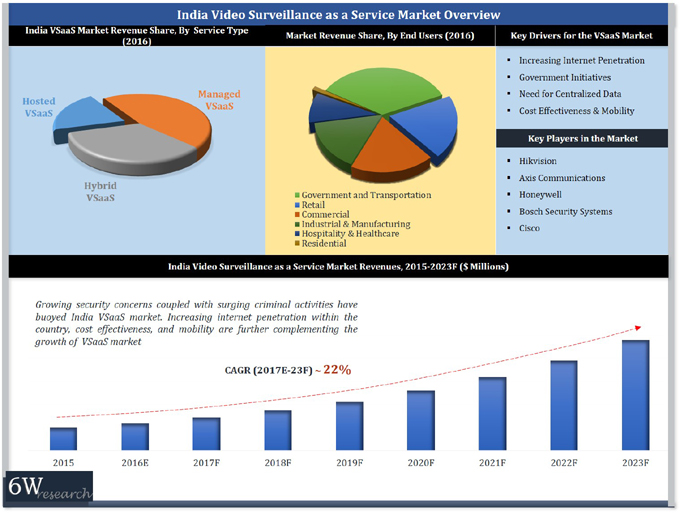 Source Link: http://www.6wresearch.com/press-releases/india-video-surveillance-as-a-service-vsaas-market-share-trends-forecasts-vsc-growth-size-opportunity-media-news-cagr-players.html
For Further details, please contact:
Email Us: sales@6wresearch.com
Call Now: +91-11-430-24-305
The Views and Opinions expressed in this article are the author's own and do not necessarily reflect those of this Web-Site or its agents, affiliates, officers, directors, staff, or contractors.