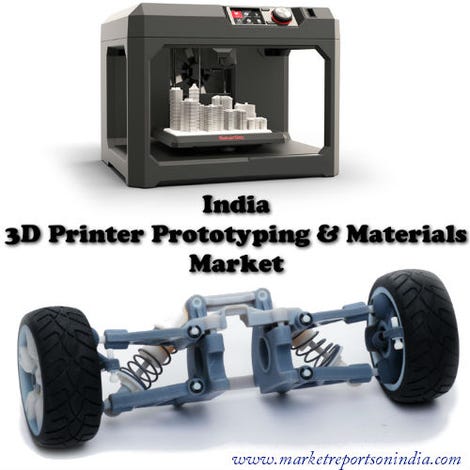 Market reports on India presents the latest report on "India 3D Printer Prototyping & Materials Market". The report includes India 3D printer prototyping market and by 3D printer materials.

India 3D Printer Prototyping & Materials Market (2016-2022): Market Forecast by Applications (Electronics & Consumer Goods, Automotive, Medical, Industrial, Aerospace & Military, Education, Architectural and Others) and Materials (Plastic (ABS, PLA, PVA, PC, HDPE, Nylon and Resin Based), Metal (Maraging & Stainless Steels, Ferro Alloys and Precious Metal Powders), Ceramics (Traditional Ceramics, Structural/ Advanced Ceramics and Sandstone/ Limestone/ Granite) and Wax)
3D printer is a device that creates objects by using technologies such as stereolithography, selective laser sintering, fused deposition modelling, multijet modelling or polyjet technology and with materials like ABS, PLA, PC, resins, powders or other suitable materials.
India 3D printer prototyping & materials market is projected to reach over $62 million by 2022. Over the last few years, India is registering growth in demand for 3D printers on account of usage of these for preparing prototypes in the areas of electronics & consumer goods, automotive, architecture, medical, industrial and others. Although, India 3D printer market is presently at nascent stage; however holds tremendous potential for the manufacturers, local assemblers and distributors.
3D printer prototyping service market is expected to gain momentum through the forecast period especially in application areas such as education, medical, arts, accessories and architectural. Shift in trend is visible towards industrial & manufacturing application owing to growing awareness and declining prices for industrial 3D printers.
The report includes India 3D printer prototyping market, by applications (consumer goods & electronics, automotive, medical, industrial, architectural, educational, aerospace & military), and by 3D printer materials, by type (Plastics, Metal, Ceramics and Wax)
Key Highlights of the Report
Market Dynamics Including Drivers, Restraints, Trends & Opportunities for India 3D Printer Prototyping Market
Historical Market Revenue Trends for India 3D Printer Market, 2010 – 2015
Market Size & Revenue Forecast of India 3D Printer Market until 2022
Historical Market Revenue Trends for India 3D Printer Prototyping Market, 2012 – 2015
Market Size & Revenue Forecast of India 3D Printer Prototyping Market until 2022
Historical Market Revenue Trends for India 3D Printer Materials Market, 2012 – 2015
Market Size & Revenue Forecast of India 3D Printer Materials Market until 2022
Market Size & Revenue Forecast of India 3D Printer Materials Market, By Material Type until 2012-2015
Market Size & Revenue Forecast of India 3D Printer Materials Market, By Material Type until 2022
Market Revenue Forecast and Estimations by Applications until 2022
Price Point Analysis, By Service Provider
Infrastructure Requirement for 3D Printing
Competitive Landscape
Company Profiles
Key Strategic Pointers
Markets Covered
The report provides the detailed analysis of the following market segments:
3D Printer Market
D Printer Prototyping Market
3D Printer Materials Type:
Plastics (ABS, PLA, PVA, PC, HDPE, Nylon and Resin Based)
Metal (Maraging & Stainless Steels, Ferro Alloys and Precious Metal Powders)
Ceramics (Traditional Ceramics, Structural/ Advanced Ceramics and Sandstone/ Limestone/ Granite) and
Wax
3D Printing Material Pricing
Filament
Powder
Resin
Applications
Consumer Goods & Electronics
Medical
Automotive
Architectural
Educational
Industrial
Aerospace & Military
Others

To read the complete report at:
http://www.marketreportsonindia.com/consumer-goods-market-research-reports-13857/india-3d-printer-prototyping.html

Related Research Reports: http://www.marketreportsonindia.com/market-research-report/consumer-goods.html

Contact Us
Market Reports on India
Contact No: India: +91 22 27810772, 27810773
Mail: mronindia@gmail.com