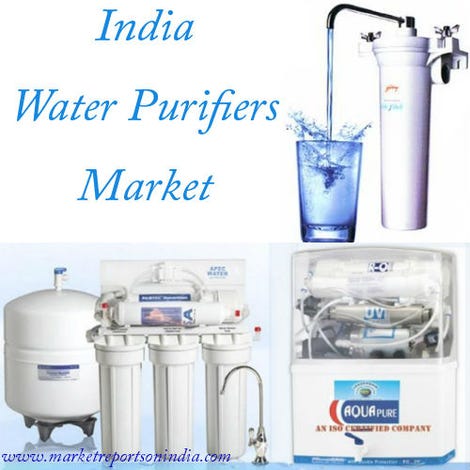 Majority of the population in India relies on water supplied from underground sources and water bodies for drinking purpose. Expansion of industrial sector in India over the last couple of decades and the resulting increase in disposal of waste materials into rivers has rendered river water unfit for drinking. In addition, underground water in several regions of the country contains high TDS levels. Deteriorating quality of water in India is the principal factor for the surging water purifiers demand in the country. Rising awareness regarding the worsening quality of water, coupled with increasing penetration of water purifiers in the country, has made India one of the fastest growing markets for water purifiers across the world. In addition, government of India has launched various programs such as National Rural Drinking Water Quality Monitoring and Surveillance Program to improve quality of drinking water and increase awareness about water borne diseases. In addition, the central government has directed states to use 20% of allocated Accelerated Rural Water Supply Programme (ARWSP) funds to improve the quality of water supplied to the households.

"India Water Purifiers Market By Technology, By Sales Channel, By Region, Competition Forecast and Opportunities, 2011 - 2021", the water purifiers market in India is projected to grow at a CAGR of over 21% during 2016-2021. RO water purifiers segment was the fastest growing segment in India water purifiers market during 2011-2015, and the trend is expected to continue over the next five years. Poor quality of available water in India has prompted a large part of the population in India to switch to high end water purifiers with RO technology that are capable of treating the impurities present in water. Over the last five years, direct sales emerged as the most preferred mode of sales channel in the country's water purifier market. "India Water Purifiers Market By Technology, By Sales Channel, By Region, Competition Forecast and Opportunities, 2011 - 2021" discusses the following aspects of India water purifiers market:

• India Water Purifiers Market Size, Share & Forecast
• Segmental Analysis - By Technology (RO, Gravity and UV), By Sales Channel (Direct Vs. Retail)
• Policy & Regulatory Landscape
• Changing Market Trends & Emerging Opportunities
• Competitive Landscape & Strategic Recommendations

Why You Should Buy This Report?
• To gain an in-depth understanding of India water purifiers market
• To identify the on-going trends and anticipated growth in the next five years
• To help industry consultants, water purifier manufacturers, vendors and dealers align their market-centric strategies
• To obtain research based business decisions and add weight to presentations and marketing material
• To gain competitive knowledge of leading market players
• To avail 10% customization in the report without any extra charges and get research data or trends added in the report as per the buyer's specific needs

Report Methodology
The information contained in this report is based upon both primary and secondary research. Primary research included interaction with water purifier suppliers and industry experts in India. Secondary research included an exhaustive search of relevant publications like company annual reports, financial reports and proprietary databases.

To read the complete report at:
http://www.marketreportsonindia.com/consumer-goods-market-research-reports-173/india-water-purifiers.html
Related Research Reports: http://www.marketreportsonindia.com/search.php?q=+Water+Purifier

Contact Us
Market Reports on India
Contact No: India: +91 22 27810772, 27810773
Mail: mronindia@gmail.com
Website: http://www.marketreportsonindia.com/contact.php
The Views and Opinions expressed in this article are the author's own and do not necessarily reflect those of this Web-Site or its agents, affiliates, officers, directors, staff, or contractors.