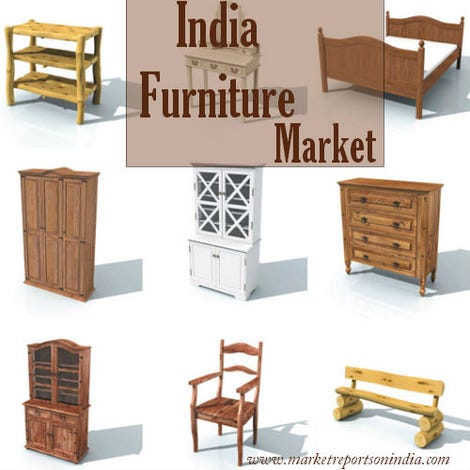 Market reports on India presents the latest report on "Furniture Market in India" This report provide the onset and growing popularity of online furniture market, the industry is likely to witness consolidation.

The Indian furniture industry is one of the fast growing markets in the world. Steady growth of the Indian economy, real estate / hospitality sector boom, an increase in spending power coupled with lifestyle changes have fuelled the growth of the furniture market in the country. The Indian furniture market is characterized with a large number of small players, accounting for nearly 80% of the domestic production. However, with the onset and growing popularity of online furniture market, the industry is likely to witness consolidation. E-tailing of furniture has not only provided greater choice for consumers but also opened up plethora of opportunities for the small players to sell their products.

Furniture market in India was estimated at INR 720 billion in 2014-15 and is forecast to reach INR 1,510 billion by 2019-20. Furniture market is primarily concentrated in the metropolitan cities, Tier I and Tier II cities with the major user segments being residential, office, commercial and institutional.

This report entitled "The Furniture Market in India to 2019-20", from Market Report on India, published in July 2016, is an in-depth industry analysis that examines the qualitative and quantitative dimensions of the furniture industry in India.

What this report covers
-Overview of the Indian furniture market
-Industry structure and segmentation
-Key drivers and emerging trends
-Market size & demand forecast to 2019-20
-Market break-up by material type, user segments and region
-Detailed discussion on each of the furniture type (Wood, Plastic, Metal, Cane/Bamboo)
-Key players, their product range and segments of focus
-Distribution structure, roles played by the stake holders in the value chain
-Export and import trends" "Who will benefit from this study?
-Furniture manufacturers (India & Global)
-Furniture exporters and importers
-Retailers / distributors (Brick & Mortar and online)
To read the complete report at: http://www.marketreportsonindia.com/consumer-goods-market-research-reports-14091/furniture-india1.html
Related Research Reports: http://www.marketreportsonindia.com/market-research-report/consumer-goods.html?q=Furniture&ipage=&sortby=dd

Contact Us
Market Reports on India
Contact No: India: +91 22 27810772, 27810773
Mail:info@marketreportsonindia.com
Website: http://www.marketreportsonindia.com/contact.php
The Views and Opinions expressed in this article are the author's own and do not necessarily reflect those of this Web-Site or its agents, affiliates, officers, directors, staff, or contractors.