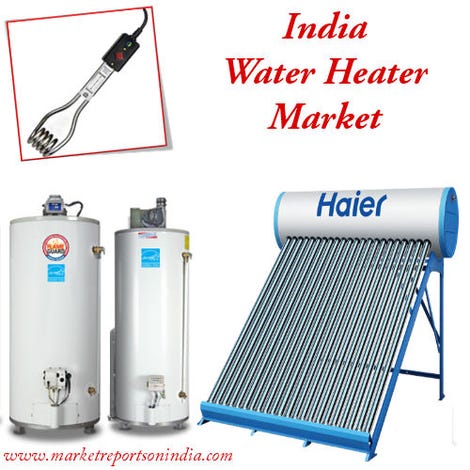 Market reports on India presents the latest report on "India Water Heater Market" The market has shown immense growth potential resulting into the continuous innovation in the products by the organized segment.

This report gives an in-depth analysis of water heater industry in India. The water heaters industry is filled with large numbers of un-organized as well as organized manufacturers. The market has shown immense growth potential resulting into the continuous innovation in the products by the organized segment. More than half of the electric water heater market share is enjoyed by the established big business units as they are able to offers the products that are technologically upgraded along with increased level of safety that are even energy efficient. The major players in the segment are Racold, Bajaj Electricals, Venus, A.O.Smith, V-Guard and are estimated to control the segment in the nearer future as well.

While in the solar segment of the water heater market the story takes a turn where the market is firmly in the hands of Un-organized manufacturers or local manufacturers, thanks to the cheaper Chinese imports. The un-organized players takes the benefit of the price sensitive customers as the basic models they have to offer in the solar segment costs roughly around INR 8500 that is almost half the price as compared to the branded one that goes up to INR 15000. The established players in the segment are Emmvve, Anu Solar, Tata BP and V-Guard which has minimal share in the market as compared to the local manufacturers.

The electric water heaters is the dominant market as it comes with low ownership cost and lower maintenance, is forecasted to dominate the market in the nearer future. Solar waters have started picking up slowly due to the continuous efforts from the Government and increased awareness amongst the customers to opt for environment friendly products. The factor that dents the solar segment is high cost of ownership from the organized market and lower quality from the un-organized market that in turn increases the maintenance cost. With innovations going in the industry will offer the bunch of products that will be able to cater the needs of the customers.

Key Product Type
• Electric Water Heater
• Solar Water Heater
• Gas Water Heater
To read the complete report at: http://www.marketreportsonindia.com/consumer-goods-market-research-reports-12899/india-water-heater1.html
Related Research Reports: http://www.marketreportsonindia.com/market-research-report/consumer-goods.html?q=Water+Heater&ipage=&sortby=dd
Contact Us
Market Reports on India
Contact No: India: +91 22 27810772, 27810773
Mail:info@marketreportsonindia.com
Website: http://www.marketreportsonindia.com/contact.php
The Views and Opinions expressed in this article are the author's own and do not necessarily reflect those of this Web-Site or its agents, affiliates, officers, directors, staff, or contractors.