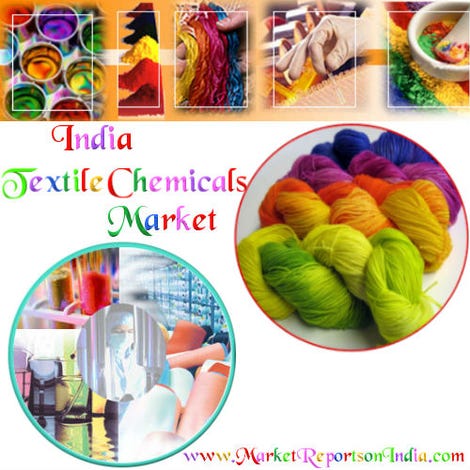 Market Report on India present the latest report on "Textile Chemicals Market in India", This report to gain an in-depth understanding of India textile chemicals market and identify the on-going trends and anticipated growth in the next five years

Textile chemicals are broadly divided in two categories, namely, auxiliaries and colorants; and are used to impart desired properties such as strength, color, flame resistance, etc. to the fabric. Auxiliaries are the chemicals used during each and every step of textile manufacturing process in order to impart certain characteristics to the fabric, while colorants are used to impart color to the textile products. Government of India has been increasingly focusing on taking initiatives to make the country's textile industry more competent on the global landscape. Apart from increasing production capacity of textile products, the government is investing heavily to upgrade existing manufacturing technology required for textile production. Moreover, 100% FDI is allowed in the textile sector under the automatic route, which is further boosting the textile production, and consequently positively influencing the country's textile chemicals market.

"India Textile Chemicals Market By Product Type, By Application, Competition Forecast & Opportunities, 2011 – 2021", textile chemicals market in India is projected to cross US$ 2.5 billion by 2021, on account of increasing industrialization, surging consumption of textiles in engineered products and rapidly rising awareness about the benefits of using textile chemicals. Apart from this, rising disposable income and increasing living standards are expected to significantly augment demand for textile chemicals in India over the next five years. On the basis of product type, India textile chemicals market has been segmented into two categories, namely, colorants and auxiliaries. Among these categories, auxiliaries segment dominated the India textile chemicals market in 2015. Archroma India Pvt. Ltd, Huntsman International (India) Pvt. Ltd., Rossari Biotech Ltd., Jaysynth Dyestuff (India) Limited and Kiri Industries Limited are some of the leading manufacturers of textile chemicals in India. "India Textile Chemicals Market By Product Type, By Application, Competition Forecast & Opportunities, 2011 – 2021" report elaborates following aspects related to India textile chemicals market:

• India Textile Chemicals Market Size, Share & Forecast
• Segmental Analysis – By Product Type (Auxiliaries Vs. Colorants), By Application (Apparels, Home Furnishing and Technical Textiles)
• Policy & Regulatory Landscape
• Changing Market Trends & Emerging Opportunities
• Competitive Landscape & Strategic Recommendations

Why You Should Buy This Report?

• To gain an in-depth understanding of India textile chemicals market
• To identify the on-going trends and anticipated growth in the next five years
• To help industry consultants, textile chemical manufacturers, vendors and dealers to align their market-centric strategies
• To obtain research based business decisions and adds weight to presentations and marketing material
• To gain competitive knowledge of leading market players
• To avail 10% customization in the report without any extra charges and get the research data or trends added in the report as per the buyer's specific needs

Report Methodology

The information contained in this report is based upon both primary and secondary sources. Primary research included interviews with textile chemical manufacturers and industry experts. Secondary research included an exhaustive search of relevant publications like company annual reports, financial reports and other proprietary databases.
To read the complete report at: http://www.marketreportsonindia.com/industry-mfg-market-research-reports-1294/india-textile-chemicals-auxiliaries-colorants-apparel.html
Related Research Reports: http://www.marketreportsonindia.com/market-research-report/industry-mfg.html?q=Textile+&ipage=&sortby=dd
Contact Us
Market Reports on India
Contact No: India: +91 22 27810772, 27810773
Mail:info@marketreportsonindia.com
Website: http://www.marketreportsonindia.com/contact.php
The Views and Opinions expressed in this article are the author's own and do not necessarily reflect those of this Web-Site or its agents, affiliates, officers, directors, staff, or contractors.