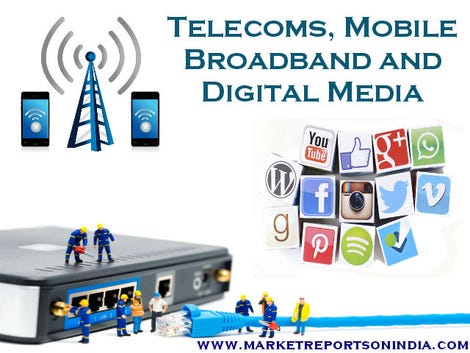 Market Report on India present the latest report on "Telecoms, Mobile, Broadband and Digital Media in India", the mobile market continues to be the main focus of the Indian telecom sector.

Despite setbacks, India continues to be one of the fastest growing major telecom markets in the world. It is also one of the largest. Sweeping reforms introduced by successive Indian governments over the last decade have dramatically changed the nature of telecommunications in the country. By 2016 there were positive signs of a healthier regulatory environment taking shape. The government has been continuing to push to complete the restructuring of the telecommunications regulatory regime.

India's mobile market continues to get the bulk of local capital expenditure as the operators expand their infrastructure. The mobile market continues to be the main focus of the Indian telecom sector. India has a huge national telecommunications network. The fixed line market in India remains highly underdeveloped due to the dominance of the mobile segment. Further, the number of fixed telephone lines is slowly declining as the mobile segment continues to expand. Overall penetration dropped from 2.1% in 2014 to 2.0% in 2015 and 1.9% in 2016.

With fixed-line penetration falling below 3%, the country has nevertheless achieved a remarkable coverage, 99% of the population having some form of access to a telephone. There has been heavy investment in telecoms infrastructure over the last decade to service the huge population. The government and the operators push forward on a number of fronts to speed up the roll-out of services to the wider population. Market leader BSNL's market share has dropped significantly over the past six years due to growing market competition and the entry of new players in the market such as Vodafone.

Mobile Market

Over the past decade India's mobile sector has developed a sustained momentum, aided by higher subscriber volumes, lower tariffs and falling handset prices. There had been a major push to take mobile services into the poorer and rural areas of the country, a move that inevitably weighed down on ARPU.

India's mobile market dominates the local telecom sector with its large subscriber base and revenue numbers, as well as the huge capital investment by operators. It has continued to be a highly competitive market in which a number of major players together with a larger number of smaller players have been battling to increase market share.
Mobile broadband penetration has grown strongly in India over the past few years driven by a strong and growing mobile subscriber base. Further strong growth is predicted over the next year to 2017. Mobile broadband is set to grow exponentially throughout India, driving digital inclusion and economic growth for India's consumers and businesses.

Fixed Broadband and Digital Economy

Despite a booming internet market across the country, India's move into high-speed broadband internet access has been distinctly sluggish. When it came to high-speed broadband access, for long time there was a reluctance to adopt what was on offer, especially within the corporate sector, and the growth of broadband remained relatively slow for some time.

India's fixed broadband market remains underdeveloped in India, mainly due to the dominance of the mobile platform and an unwillingness by operators to invest in fixed broadband infrastructure. Between 2011 and 2015, fixed broadband penetration increased only marginall. During 2015/16 the market grew by nearly 10% reaching. Moderate growth is predicted for the next five years to 2021.
Key developments:

a national optical fibre network (NOFN) project has been launched;
the total number of 'connected villages' in India has passed 99%;
the Indian government spun out the Department of Electronics and Information Technology (DeitY) from the Ministry of Communications
India's Telecom Commission approved the introduction of a new category of unified licence, virtual network operators (VNOs).
The TRAI published new regulations on net neutrality, prohibiting operators from providing discriminatory tariffs based on content.
Vodafone signed an agreement to acquire cable broadband provider YOU Broadband for INR4 billion (USD59.9 million).
Idea launched its first 4G platform

Companies mentioned in this report:

Aircel/Dishnet, Bharti Airtel, Loop Mobile (BPL Mobile), Idea, Reliance Communications, Tata Teleservices, Vodafone Essar, Uninor (Unitech), Videocon, S Tel, Bharti Telenet, Reliance Infocomm, Tata Teleservices, Sistema (Shyam Telelink), Swan Telecom, Videsh Sanchar Nigam Ltd (VSNL), Bharat Sanchar Nigam Ltd (BSNL), Mahanagar Telephone Nigam Ltd (MTNL), Videocon.

To read the complete report at:http://www.marketreportsonindia.com/technology-media-market-research-reports-15/india-telecoms-mobile-broadband-forecasts1.html

Related Research Reports: http://www.marketreportsonindia.com/market-research-report/technology-media.html

Contact Us
Market Reports on India
Contact No: India: +91 22 27810772, 27810773
Mail:info@marketreportsonindia.com
Website: http://www.marketreportsonindia.com/contact.php

The Views and Opinions expressed in this article are the author's own and do not necessarily reflect those of this Web-Site or its agents, affiliates, officers, directors, staff, or contractors.