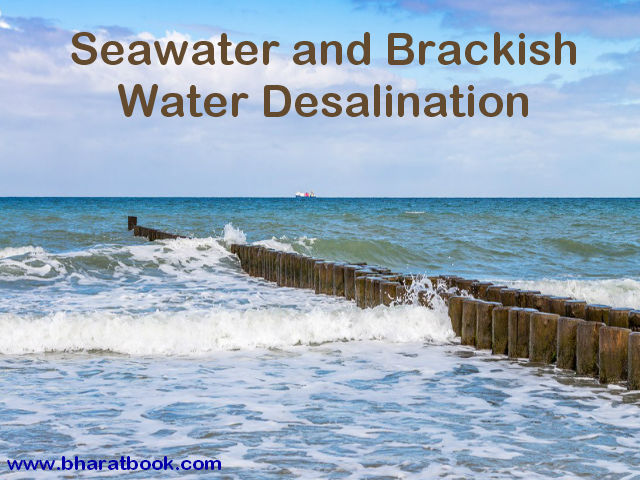 The global cumulative investments in desalination plants reached roughly $21.4 billion in 2015 and should reach nearly $48.2 billion by 2020, with a compound annual growth rate (CAGR) of 17.6%.

This report provides:

-An overview of the global market for seawater and brackish water desalination
-Analyses of global market trends, with data from 2014, estimates for 2015, and projections of compound annual growth rates (CAGRs) through 2020
-Descriptions of various desalination methods, including multistage flash distillation, multi-effect distillation, vapor compression, reverse osmosis, and nanofiltration
-Discussion of novel desalination methods, including freezing, gas hydrate formation, membrane distillation, and capacitive deionization
-Examination of the seawater and brackish water desalination plants industry on a worldwide basis, both from a market and application perspective
-Profiles of major and minor companies working on or in conjunction with desalination plants.

INTRODUCTION

STUDY GOALS AND OBJECTIVES
This comprehensive technology market research report evaluates the global market for saline water desalination plants. The goals are to provide meaningful information, unbiased analysis, and an assessment of the roles that desalination can play now and in the future of water treatment technology. Technical aspects of both thermal and membrane desalination processes are outlined, as well as a few alternative techniques that may be viable in the future. The report analyzes the water needs of 18 countries in five world regions. Known projects by country for the next five years are presented, along with estimated capacity additions, market values, and growth rates for each world region.

REASONS FOR DOING THE STUDY
This report updates a previous The report on the same topic that was published in 2013. The need for pure water is a problem of global proportions and has become even more urgent since the earlier report became available. Water treatment is an issue of global concern as individuals, communities, industries, countries, and national institutions strive for ways to keep this essential resource available and suitable for use.

Increasingly, desalination systems are selected as an effective option to deliver pure water to the public by transforming saline, brackish, and contaminated water into useable and/or potable products. In part, this increased demand drives the development of technical advances in desalination processes and parallel price drops in the processes, especially membrane-based methods. These advances have made desalination systems affordable for countries that were previously unable to consider the possibility, thus creating a robust and rapidly growing market in which projects and corporate developments are constantly evolving.

INTENDED AUDIENCE
This report was prepared for a broad audience of business, technical, and regulatory professionals on a global scale. The document will serve as a source of information about the industry; a reference manual on desalination technology; and a data resource for decision-makers who must stay abreast of the state of the art. Its market outlook should be valuable to manufacturers and suppliers, as well as to local, state, and federal governments and foreign legislatures. Engineers, utilities, and corporate planners will benefit from accessing information about the global demand for desalination plants.

SCOPE OF REPORT
Desalination plants range from the very small to large industrial or municipal facilities. This report assesses the market for the larger facilities—those with a daily capacity of 1,000 or more cubic meters of produced water. The study discusses the global water resource status and the growing gap between freshwater resources and water demand from all sectors. Within this global context, the specific growth drivers for and the challenges to the evolution of the desalination equipment market are presented.

A technical overview of the primary desalination technologies is provided, as well as an overview of novel distillation methods. The report presents the hypothetical unit cost of water as produced by the primary technologies as well as the sensitivity of that cost to variations in economic parameters.

Forecasts of annual and cumulative capital investments in desalination plants likely to begin operation during the forecast period of 2015 to 2020 are given. These forecasts include global investments by technology and by region, as well as regional forecasts by technology. Outlooks are provided for important countries within each of the regions examined in the report: North America; Latin America and the Caribbean; Europe, the Middle East, and North Africa; Asia and Oceania; and Africa/Rest of World. The outlook sections include information on key projects.

The desalination industry structure, key players, and their market shares are also discussed. Seventy-seven companies are profiled. In addition, a survey of relevant patents for 2013, 2014 and 2015 (through October 2015) is provided.

METHODOLOGY AND INFORMATION SOURCES
Both primary and secondary research methodologies were used in preparing this report. Research began with a reanalysis of the available technical and business literature, as well as an evaluation of the water treatment industry records that were available to the author. Conversations with industry experts and company representatives, along with a review of their published works, provided the backbone for the evaluation of the desalination industry.

Information sources for the study also included online research, patent literature, and technical journals. In evaluating the global market, information was obtained from the U.S. Department of Commerce, the U.S. Department of State, Aquastat, the United Nation's Global Water Information System (GWI), and publications from the International Desalination Association (IDA), the European Desalination Association, and the Middle East Desalination Research Center. The raw data for all analyses relating to installed desalination plants was sourced from IDA/GWI DesalData Inventory Report 28.
For more information kindly visit : https://www.bharatbook.com/water-market-research-reports-418621/seawater-brackish-water-desalination.html

Related Reports: https://www.bharatbook.com/energy-utility-market-research-report/water.html

About Bharat Book Bureau:
Bharat Book Bureau is the leading market research information provider for market research reports, company profiles, industry analysis, country reports, business reports, newsletters and online databases Bharat Book Bureau provides over a million reports from more than 400 publishers around the globe. We cover sectors starting from Aeronautics to Zoology.
In case the reports don't match your requirement then we can do a specialized Custom Research for you. Our multifarious capabilities, cross-sector expertise and detailed knowledge of various markets, put us in a unique position to take up Custom Research demands of yourself.
OR
Contact us at:
Bharat Book Bureau
Tel: +91 22 27810772 / 27810773
Email: poonam@bharatbook.com
Website: www.bharatbook.com
Follow us on Facebook: https://www.facebook.com/BharatBook3B
Follow us on Twitter: https://twitter.com/researchbook
Follow us on Linked In:http://www.linkedin.com/company/bharat-book-bureau
Our Blog:https://www.bharatbook.com/blog/

The Views and Opinions expressed in this article are the author's own and do not necessarily reflect those of this Web-Site or its agents, affiliates, officers, directors, staff, or contractors.