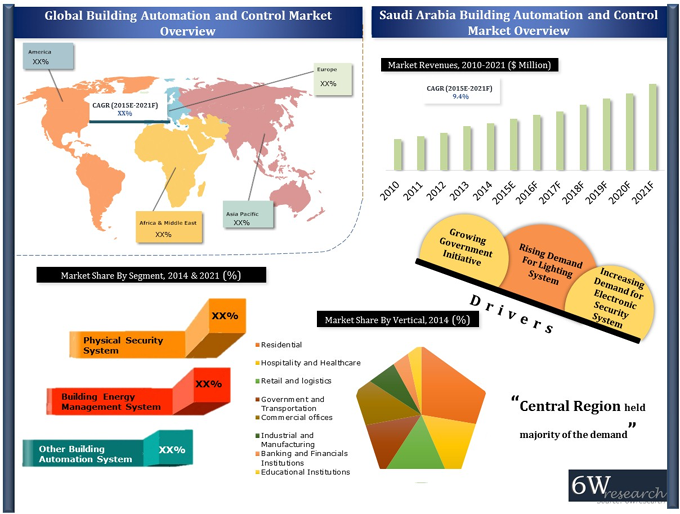 Saudi Arabia Building Automation and Control Market to Grow at a CAGR of 9.4% During 2015-21 – 6Wresearch
Saudi Arabia's has emerged as the key revenue generating country in Middle-East building automation and control market. Driven by need for energy management, increasing infrastructure spending, demand for advanced electronic security systems, and growing awareness have led for adoption of building automation and control systems.
According to 6Wresearch, Saudi Arabia Building Automation and Control Market is projected to grow at a CAGR of 9.4% during 2015-21. Saudi Arabia building automation market is highly fragmented where large number of domestic and international players are providing their products in the country. Rising infrastructure has played a vital role for the significant growth of the market. In construction market, Saudi Arabia leads amongst all GCC countries.
According to Rajat Kharbanda Senior Consultant, Research and Consulting, 6Wresearch, "Residential, hospitality & healthcare and retail are the major revenue contributing verticals in the overall market. Saudi Arabia is witnessing significant infrastructure development activities in these verticals, which has spurred the market. Also, increasing demand for energy management in the residential vertical would further stimulate the growth of the market".
"Moreover, increasing number of foreign tourists has driven the construction of new hotels across the country, which is resulting into deployment of physical security systems, air conditioning units, elevators, etc. With the changing government policies, many new companies from different industries are entering in the country to explore business opportunities, which is leading to the construction business parks and industrial hubs," Rajat further added.
According to Shefali Goel, Research Associate, Research and Consulting, 6Wresearch, "Central and western regions are the key revenue generating regions in the building automation and control market. Increasing investments, rise in infrastructure, growing IT sector, and establishment of several industries in these regions have contributed for their growth. Riyadh, Jeddah, Makkah and Madinah have led for the growth of these regions".
"In building automation market, air conditioners, elevators & escalators, fire & safety and video surveillance segments have dominated the market and would lead through the forecast period. Over the next six years, segments such as video surveillance systems and lighting controls are expected to grow with relatively higher CAGR than other segments," Shefali concluded.
Some of the companies in Saudi Arabia building automation and control market include – Axis Communication, Bosch Security System, Pelco, Honeywell, Zamil Air Conditioners, Al Salem Johnson Controls (YORK), KONE Areeco, Schindler Olayan, ThyssenKrupp AG, Mitsubishi, Tyco Fire & Security, United Technologies, SFFECO and NAFFCO.
"Saudi Arabia Building Automation and Control Market (2015-2021)" provides in depth analysis with 88 figures and 43 tables covered in more than 180 pages. The report estimates and forecast overall Saudi Arabia's building automation and control market by revenue, type segments physical security systems (video surveillance, access control, alarming systems and fire & safety), building energy management (lighting control system and air conditioners), parking management systems, water management systems and elevator & escalators. Verticals such as banking and financial institutions, government and transportation, retail and logistics, commercial offices, industrial and manufacturing, residential, hospitality and healthcare, and educational institutions. The study highlights the key potential areas and provides insights on competitive landscape, company profiles, market drivers and restraints.
Source Link: http://www.6wresearch.com/press-releases/saudi-arabia-building-automation-control-market-2015-2021.html
For Further details, please contact:
Email Us: sales@6wresearch.com
Call Now: +91-11-430-24-305
The Views and Opinions expressed in this article are the author's own and do not necessarily reflect those of this Web-Site or its agents, affiliates, officers, directors, staff, or contractors.