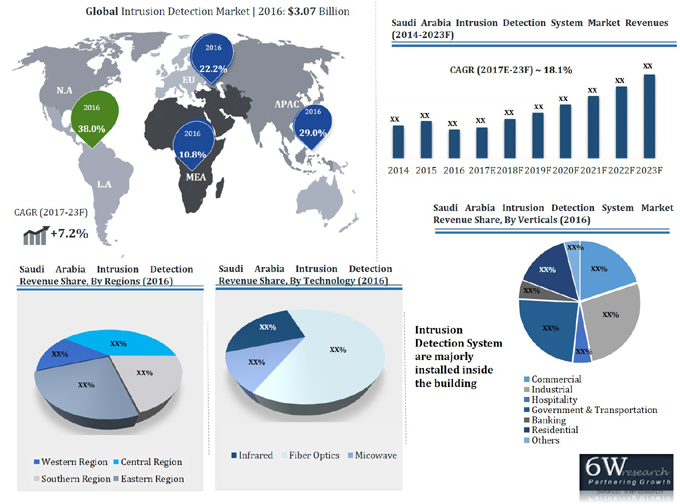 Saudi Arabia a Key Market for Intrusion Detection Systems in the GCC Region -6Wresearch
Saudi Arabia's intrusion detection market decline during 2014-16, owing to deteriorating economic conditions, primarily due to slump in oil prices and halt in several government projects in the country. Over the next six years, the intrusion detection market in Saudi Arabia is likely to register positive growth buoyed by increasing infrastructural projects, upcoming hotels & shopping malls, along with increasing inflow of FDI in the construction sector as well as set up of new large and medium enterprises.
According to 6Wresearch, Saudi Arabia Intrusion Detection market is projected to grow at a CAGR of 18.1% during 2017-23. Saudi Arabia's Intrusion Detection market is poised to due to several key factors predominantly by the recovery of crude oil prices. Further, with the announcement of government smart cities project, under which construction of 10 smart cities are to be completed by 2020 would further result in an increase in demand for intrusion detection system in Saudi Arabia over the next three years.
Browse Press Release @ http://www.6wresearch.com/press-releases/saudi-arabia-intrusion-detection-market-ksa-share-trends-forecasts-size-growth-opportunity-players-media-news.html
According to Shefali Goel, Senior Research Analyst, Research and Consulting, 6Wresearch, "Fiber Optics sensors captured major revenue share of the market; growing demand for smaller, secure and reliable intrusion detection alarms and declining prices of fiber optics intrusion detection systems resulted in growth of intrusion detection market in the country."
"Further, under Vision 2030, Saudi Arabia government has passed a plan to invest in the infrastructural development plans and to allow FDI in the commercial and retail sectors which would result in an increase in the construction projects in the country, further leading to an increase in deployment of intrusion detection system at various locations," Shefali concluded.
According to Krishan Kohli, Research Associate, Research and Consulting, 6Wresearch, "In Saudi Arabia, Central region registered maximum deployment of intrusion detection systems on the back of increasing infrastructural development activities, especially in the commercial and industrial verticals."
"Further, industrial and government & transportation verticals accounted for highest revenue share followed by commercial offices, residential, and others. Over the next six years, the government and residential verticals are forecast to grow at a higher CAGR during 2017-23," Krishan added.
Some of the major companies in Saudi Arabia intrusion detection market include- Alhamrani Universal Company Limited, Arecont Vision, LLC, Azad Tech, Bosch Security System, Honeywell International, Interlogix, Optex Group Co., Ltd, Pelco, Siemens Ltd. and Tyco Electronics Saudi Arabia Limited.
"Saudi Arabia Intrusion Detection Market (2017-2023)" provides in-depth analysis with 54 figures and 5 tables covered in 100 pages. The report estimates and forecast the overall Saudi Arabia Intrusion Detection market by revenue, by installation type, by technology, by regions, and by verticals. The report also offer insights on competitive landscape, market share by companies, companies benchmarking, company profiles as well as market drivers and restraints.
For Sample Pages & TOC : http://www.6wresearch.com/market-reports/saudi-arabia-intrusion-detection-market-2017-2023-forecast-by-installations-technology-verticals-regions-competitive-landscape.html
For Further details, please contact:
Email Us: sales@6wresearch.com
Call Now: +91-11-430-24-305
The Views and Opinions expressed in this article are the author's own and do not necessarily reflect those of this Web-Site or its agents, affiliates, officers, directors, staff, or contractors.