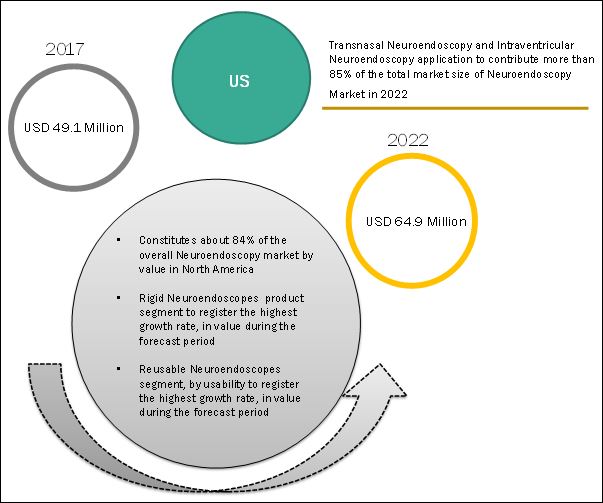 According to a new market research report "Neuroendoscopy Market by Product (Rigid (Videoscope, Fiberscope), Flexible endoscope), Usability (Reuse and Disposable), Application (Transnasal, Intraventricular, and Transcranial), Region (North America,Europe,Asia) - Global Forecast to 2022", published by MarketsandMarkets™, the global market is expected to reachUSD 218.9 Million by 2022 fromUSD 170.5 Million in 2017, at a CAGR of 5.1%.

The growth of the Neuroendoscopy Market is attributed to favorable government initiatives, rising prevalence of neurological disorders, and benefits of neuroendoscopic surgery over conventional brain surgery.

Don't miss out on business opportunities in Neuroendoscopy Market by Usability and Product.

Request PDF Brochure:
https://www.marketsandmarkets.com/pdfdownloadNew.asp?id=68126508

The high cost of neuroendoscopy procedures & equipment is the major restraint for the market.

The average list price of a neuroendoscopy system is as high as USD 10,000 to USD 15,000. Healthcare providers—particularly in developing countries such as India, Brazil, and Mexico—have low financial resources to invest in such costly sophisticated technologies. Moreover, healthcare staff needs to be trained for the efficient handling and maintenance of neuroendoscopy systems and equipment. This is a major issue as training costs for neuroendoscopic procedures are high. Considering the high cost of training, only a limited number of surgeons opt for undergoing training for neuroendoscopy (Source: Journal of Surgical Simulation). Owing to the high cost of equipment as well as the high training and maintenance costs, neuroendoscopy procedures are generally expensive. This is a major factor restraining the growth of the neuroendoscopy devices market.

Browse and in-depth TOC on "Neuroendoscopy Market"
75 - Tables
22 - Figures
101 - Pages

Transnasal Neuroendoscopy
Transnasal procedures help surgeons to approach the anterior cranial base, parasellar region, clivus, cavernous sinus, and craniovertebral junction in a less invasive manner as compared to conventional neurosurgery techniques. Transnasal neuroendoscopy is indicated for biopsies, removal of cysts, and removal of pituitary gland tumors and other obstructions. The advantages of transnasal neuroendoscopy include increased visualization with high light intensity in the deep-seated surgical field, clear display of patho-anatomical details, and extended viewing angle of neuroendoscopes (which enables surgeons to observe hidden parts of the surgical field).

Intraventricular Neuroendoscopy
Neuroendoscopic surgery for intraventricular brain tumors is one of the major applications of neuroendoscopy market. This approach is used in selective conditions, such as tumor biopsy, concordant CSF diversion, treatment of non-communicating hydrocephalus, management of pineal tumor patients, fenestration of intracranial cysts, and removal of fibroid cysts. Factors such as the ease of use, increased visibility, and treatment of a large number of neurological conditions will drive the growth of this segment.

North America dominated the Neuroendoscopy Market in 2017

In 2017,North America dominated the market followed byEurope. The large share of this geographical segment is attributed to favorable reimbursement scenario in the US, rising incidence of cancer, increasing investments by hospitals to purchase new neuroendoscopic equipment, increasing research activities, and implementation of a new funding model for Canadian hospitals.

Request Sample Pages @https://www.marketsandmarkets.com/requestsample.asp?id=68126508

The Neuroendoscopy Market includes various small and large players. Key players in this market areKARL STORZ(Germany), B.Braun Aesculap (Germany), Ackermann Instrumente (Germany), Adeor Medical (Germany), Hawk (China), Machida (Japan), Tonglu Wanhe Medical (China),Schindler (Germany), Clarus (US), LocaMed (UK), and Visionsense (US).

The Views and Opinions expressed in this article are the author's own and do not necessarily reflect those of this Web-Site or its agents, affiliates, officers, directors, staff, or contractors.