According to a new research report published by Transparency Market Research (TMR) , the global vibration sensor market is expected to reach a value of ~ US$ 4.5 Bn by 2027, expanding at a CAGR of ~ 5% from 2019 to 2027. According to the report, the global vibration sensor market is likely to continue to be influenced by a range of macroeconomic and market-specific factors in the next few years. In terms of demand, Asia Pacific is projected to continue to lead the global vibration sensor market, with the vibration sensor market in the region expanding at a CAGR of ~ 5% between 2019 and 2027.
Global Vibration Sensor Market: Overview
The last few years have seen significant rise in the awareness about predictive maintenance as well as safety in various high growth regions such as North America, Europe, and Asia Pacific.
This is attributable to the increase in the adoption of vibration sensors in several industry verticals. Vibration sensors are used to measure and analyze parameters such as linear velocity, displacement, and acceleration. These parameters are required to monitor machine health that further improves productivity as well as reduces maintenance cost. Also, the use of vibration sensors is increasing as machine condition monitoring plays an important role in improving the performance of machines.
Grab PDF Brochure For More Insights@ https://www.transparencymarketresearch.com/sample/sample.php?flag=B&rep_id=69041
These factors have driven the demand for vibration sensors in Asia Pacific. Increase in the demand for vibration sensors in high growth regions is projected to directly increase the growth of the global vibration sensor market.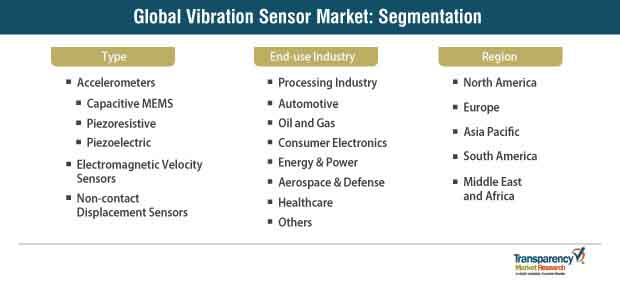 Request a Sample – https://www.transparencymarketresearch.com/sample/sample.php?flag=S&rep_id=69041
Accelerometers Hold a High Share in the Global Vibration Sensor Market
The accelerometers segment was dominant, holding 71.46% share of the global vibration sensor market in 2018. The segment is anticipated to continue its dominance throughout the forecast period in the vibration sensor market.
Piezoelectric type accelerometer vibration sensors have large demand within various industry verticals.
A significant boost to the industrial Internet of things and the growing integration of wireless sensor network technology have augmented growth in the global vibration sensor market. Wide integration of these networks helps in better understanding of the machines, and resolving related issues at the initial stage. Most of the tech giants such as IBM, Capgemini, and others have integrated these wireless networks. Recently, North Carolina-based metal parts manufacturer BC Machining LLC. deployed a machine integrated a monitoring solution that helped in improving productivity and optimizing the utilization of computer numerical control (CNC) machines.
Nowadays, MEMS accelerometers are available at competitive prices, and are being widely utilized by a large number of manufacturers and industry players. The prices of MEMS accelerometers are comparatively very low than piezoelectric accelerometers and piezoresistive accelerometers, and these are expected to further reduce in the coming years.
Read Latest Press Release Here@ https://www.prnewswire.com/news-releases/rising-energy-efficiency-measures-across-varied-end-users-to-bring-phenomenal-growth-opportunities-in-the-photonics-market-during-the-tenure-of-2020-2030-tmr-301250253.html
In terms of volume, as well, the demand for MEMS accelerometers is high, and by the end of 2027, their sales are expected to reach ~ 14.5 million units. Players are taking initiatives to enhance services related to MEMS accelerometers. For example, Safran Colibrys SA is a one-stop-shop manufacturer that offers a full supply chain, from designing to manufacturing and final testing of MEMS accelerometers. These accelerometers are designed for harsh environments and safety-critical applications.
The Views and Opinions expressed in this article are the author's own and do not necessarily reflect those of this Web-Site or its agents, affiliates, officers, directors, staff, or contractors.