According to a new market research report published by Transparency Market Research titled 'Military Laser Designator Market – Global Industry Analysis, Size, Share, Growth, Trends, and Forecast, 2019–2027,' the global military laser designator market is projected to expand at a CAGR of 4.3% during the forecast period. According to the report, the global market would continue to be influenced by a range of macroeconomic and market-specific factors, such as increasing complexity of customers, sales, and other operational data of SMEs as well as large enterprises.
Advantages offered by military laser designators and increasing production and usage of lightweight laser designators are expected to boost the global military laser designator market in the next few years.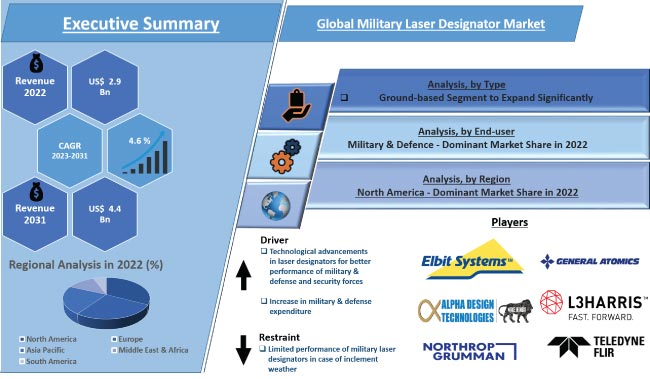 Request a Sample – https://www.transparencymarketresearch.com/sample/sample.php?flag=S&rep_id=27437
North America market to witness prominent growth, followed by Europe
In terms of revenue, Europe accounted for a significant share of the global military laser designator market in 2019. The region witnesses presence of a large number of aircraft manufacturers that are incorporating military laser designators in their new fighter jets. Advantages associated with laser designators are increasing their in aircraft and helicopters. Adoption of laser designators is increasing in homeland securities, while military laser designators are increasingly being employed for soldiers and troops. Moreover, increase in spending on research and development activities in aerospace and defense sectors is also expected to propel the market in Europe during the forecast period.
Registering the advantages offered by military laser designator, various countries have been adopting it with aim to enhance the security system and to safeguard aerial or ground attacks accurately. Lately, the military designator market is witnessing high demand rate in Germany, the UK, China, Japan, Russia, the US, and South Korea.
Adoption of new technologies in the digital warfare has resulted in the development of lightweight laser designators, as these systems assist in rapid mobility of troops and help in reducing the fatigue of soldiers. According to a news published by Endeavor Business Media, LLC., army navigation and targeting experts have kicked off a 10-year program to build an electro-optical, all-weather, day-and-night target designation and laser range finder system, in view of better performance of lightweight laser designators.
Request For COVID-19 Impact Analysis@ https://www.transparencymarketresearch.com/sample/sample.php?flag=covid19&rep_id=27437
Present-day laser designators fabricated by using legacy designs and manufacturing processes are too heavy, bulky, and costly. This has created need to improve manufacturing processes so as to produce affordable and lightweight laser designator modules for use in small UAV and UGV platforms and portable soldier systems. Major players are adopting new technologies related to laser designators to make these equipment easy to handle.
The Views and Opinions expressed in this article are the author's own and do not necessarily reflect those of this Web-Site or its agents, affiliates, officers, directors, staff, or contractors.