News Provided by GlobeNewswire
2023-01-20
ST. JOHN'S, Newfoundland and Labrador, Jan. 20, 2023 (GLOBE NEWSWIRE) -- Atlas Salt (the "Company" or "Atlas" ‎‎- TSXV: SALT; OTCQB: REMRF), 100% owner of North America's premier undeveloped high-grade ‎salt project, is pleased to announce that further to its news releases dated January 12, 2023, and January 17, 2023, it has successfully closed the second and final tranche (the "Second Tranche") of its $10 million non-brokered private placement (the "Offering").
Mr. Rowland Howe, Atlas Salt President, commented: "This $10 million private placement with two large institutional investors is very strategic at this stage of Great Atlantic's development. Atlas is blessed with a unique and highly advantaged asset in the heart of a robust road salt market in eastern North America facing a domestic production shortfall, the result of only one new mine being built in the last 60 years. With these 'anchor' investors, Atlas has added considerable leverage to its strategy of maximizing the potential value of this asset and opportunity for shareholders."
Mr. Howe added, "The Great Atlantic independent Preliminary Economic Assessment is on track to be released before the end of January."
Second Tranche Details
The Second Tranche consisted of an aggregate of 2,500,000 units (the "Units") at a price of $2.00 per Unit for gross proceeds of $5,000,000. Each Unit consisted of one common share of the Company and one-half of one common share ‎purchase warrant for an aggregate of 2,500,000 common shares and 1,250,000 warrants. Each full warrant will entitle the holder thereof to purchase one common share at a ‎price of $2.40 per share at any time on or before January 19, 2025.
In connection with the Second Tranche, the Company paid cash finders' fees of $350,000 and issued 175,000 finders' warrants. Each finders' warrant entitles the holder to purchase one common share of the Company for a period of 24 months from the date of issuance at a price of $2.40 per warrant.
Use of Proceeds
The Company intends to use the proceeds raised from the Offering for general working capital purposes and the advancement and initiation of the pre-production ‎development of the Great Atlantic Salt Project on the west coast of Newfoundland. Atlas now has a current cash position of $18 million with no debt.
Other Details
The Units were sold to purchasers resident in Canada pursuant to the listed issuer financing exemption under Part 5A of National Instrument 45-106 - Prospectus Exemptions (the "Listed Issuer Financing Exemption"). Since the Offering was completed pursuant to the Listed Issuer Financing Exemption, the securities issued in the Offering will not be subject to a hold period pursuant to applicable Canadian securities laws. The Second Tranche was conditionally approved by the TSX Venture Exchange (the "Exchange") on January 13, 2023. The Closing of the Offering remains subject to final acceptance by the Exchange. The securities described herein have not been, and will not be, registered under the United States Securities Act of 1933, as amended (the "U.S. Securities Act"), or any U.S. state securities laws, and may not be offered or sold in the United States or to, or for the account or benefit of, United States' persons absent registration or an applicable exemption from the registration requirements of the U.S. Securities Act and applicable U.S. state securities laws. This press release does not constitute an offer to sell or the solicitation of an offer to buy securities in the United States, nor in any other jurisdiction.
Atlas Salt Corporate Video
Click on the following link to view the Company's latest corporate video:

https://youtu.be/RlH5--Q2Vu0
Project Map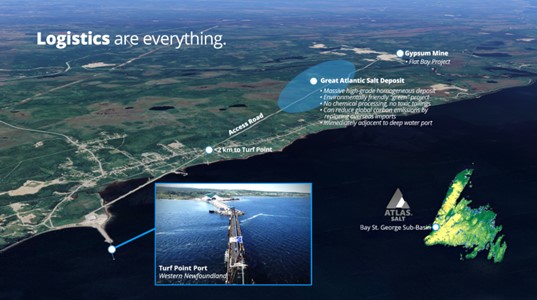 About Atlas Salt
Bringing the Power of SALT to Investors: Atlas Salt owns 100% of the Great Atlantic salt deposit strategically located in western Newfoundland in the middle of the robust eastern North America road salt market. The project features a large homogeneous high-grade resource located immediately next to a deep water port. Atlas is also the largest shareholder in Triple Point Resources as it pursues development of the Fischell's Brook Salt Dome in the heart of an emerging Clean Energy Hub on the west coast of Newfoundland.
We seek Safe Harbor.
For information, please contact:
Patrick J. Laracy,CEO
(709) 754-3186
Email: laracy@atlassalt.com
MarketSmart Communications Inc.
Adrian Sydenham
Toll-free: 1-877-261-4466
Email: info@marketsmart.ca
Forward-Looking Statements
This press release includes certain "forward-looking information" and "forward-looking ‎statements" (collectively "forward-looking statements") within the meaning of applicable Canadian ‎securities legislation. All statements, other than statements of historical fact, included herein, without ‎limitation, statements relating to the future operating or financial performance of the Company, are ‎forward-looking statements. Forward-looking statements are frequently, but not always, identified by ‎words such as "expects", "anticipates", "believes", "intends", "estimates", "potential", "possible", and ‎similar expressions, or statements that events, conditions, or results "will", "may", "could", or "should" ‎occur or be achieved. Forward-looking statements in this press release relate to, among other things: ‎statements relating to the successful closing of the Offering, the timing for delivery of the Preliminary Economic Assessment, anticipated timing thereof and the ‎intended use of proceeds. Actual future results may differ materially. There can be no assurance that ‎such statements will prove to be accurate, and actual results and future events could differ materially ‎from those anticipated in such statements. Forward looking statements reflect the beliefs, opinions and ‎projections on the date the statements are made and are based upon a number of assumptions and ‎estimates that, while considered reasonable by the respective parties, are inherently subject to significant ‎business, technical, economic, and competitive uncertainties and contingencies. Many factors, both ‎known and unknown, could cause actual results, performance or achievements to be materially different ‎from the results, performance or achievements that are or may be expressed or implied by such forward-‎looking statements and the parties have made assumptions and estimates based on or related to many of ‎these factors. Such factors include, without limitation: the timing, completion and delivery of the ‎referenced assessments and analysis. Readers should not place undue reliance on the forward-looking ‎statements and information contained in this news release concerning these times. Except as required by ‎law, the Company does not assume any obligation to update the forward-looking statements of beliefs, ‎opinions, projections, or other factors, should they change, except as required by law.‎
TSX Venture Exchange Disclaimer
Neither the TSX Venture Exchange nor its Regulation Services Provider (as that term is defined in the policies of the TSX Venture Exchange) accepts responsibility for the adequacy or accuracy of this release.
A photo accompanying this announcement is available at https://www.globenewswire.com/NewsRoom/AttachmentNg/fd360187-ee59-41bf-adc3-45398cdc0c2f
 

© 2023 GlobeNewswire, Inc. All Rights Reserved.
The news, reports, views and opinions of authors (or source) expressed are their own and do not necessarily represent the views of CRWE World.