News Provided by Accesswire
2020-11-29
A newly launched dinosaur-themed Christmas book has been launched by Promeza Publishing. They aim to create an exciting, engaging read for children of all ages.
SANTA CLARITA, CA / ACCESSWIRE / November 29, 2020 / Promeza Publishing has announced the launch of a new Christmas dinosaur book for kids. It comes with two matching dinosaur ornaments, which children can hang on their Christmas tree, bringing the book to life in an engaging way.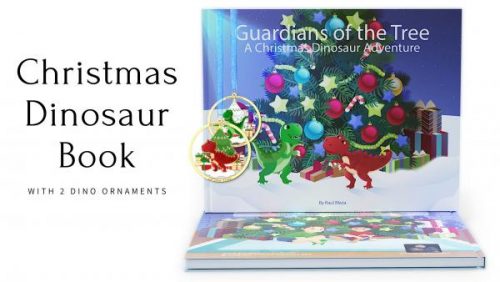 More information can be found at: https://christmasdinosaurbook.com.
The newly launched book has been designed to capture children's attention and give them a story to enjoy during holiday season. It's created with strong morals and positive messages in mind, and can build up the child's self worth.
While toy trends come and go, dinosaurs are an enduring obsession for children through the ages. Dinosaurs are a way for children to explore the natural world, learn more about exciting monsters, and engage with endless learning opportunities.
The newly launched Christmas dinosaur book is designed to harness this enduring love of dinosaurs while celebrating the spirit of Christmas. The book is called "Guardians of the Tree: A Christmas Dinosaur Adventure" and is designed to be three gifts in one.
Children will enjoy the book itself, which is filled with charming and characterful illustrations. Alongside this they get access to two dinosaur ornaments that bring the characters of the book to life. You can get a fresh look at it at https://sites.google.com/site/christmasdinosaurbook.
The newly launched book has been written with excitement and engagement in mind, and has been called a page turner in Amazon reviews. Fans highlight that it keeps their children engrossed from the beginning, and is a story that they enjoy reading time and again.
Initially the book has been launched as a limited edition copy. Parents, grandparents and guardians can buy it for a unique Christmas present that will help to make the kids' Christmas Day more exciting.
Additional details can be found at: https://youtu.be/w00iwwvERO0.
The authors state: "Sit your little dinosaur lovers in front of your Christmas tree for a fun story about serving others mixed with a healthy dose of self worth. Wide eyed and brimming with anticipation, your children will follow the story filled with adventure, love and a sprinkling of Christmas magic."
Full details of the newly launched book and the Christmas ornaments available can be found on the URL above. Interested parties can also learn more at: https://www.amazon.com/dp/B07YJFXPVK.
Contact Info:
Name: Raul Meza
Email: Send Email
Organization: Promeza MG
Address: 18283 Arial Way, Santa Clarita, CA 91351, United States
Website: https://www.promeza.com
SOURCE:Promeza MG
View source version on accesswire.com:
https://www.accesswire.com/618709/Childrens-Dinosaur-Christmas-Book-with-Tree-Decoration-Product-Launched
© 2020 Accesswire. All Rights Reserved.
The news, reports, views and opinions of authors (or source) expressed are their own and do not necessarily represent the views of CRWE World.