Um acordo assinado na manhã desta sexta-feira (1º) pelo prefeito do Rio de Janeiro, Marcelo Crivella, e o Rio Ônibus, sindicato das empresas de ônibus, prevê o aumento da passagem, de R$ 3,60 para R$ 3,95, em troca de compromissos de melhorar a prestação de serviços. O prefeito disse, entretanto, que esse valor poderá baixar, caso haja redução do Imposto sobre Circulação de Mercadorias e Serviços (ICMS), o que fazia parte das revindicações da greve dos caminhoneiros.
"Há o compromisso de sentarmos para revermos [a tarifa] se o ICMS for baixado, se for diminuído pela Assembleia Legislativa do Estado do Rio de Janeiro", ressaltou Crivella.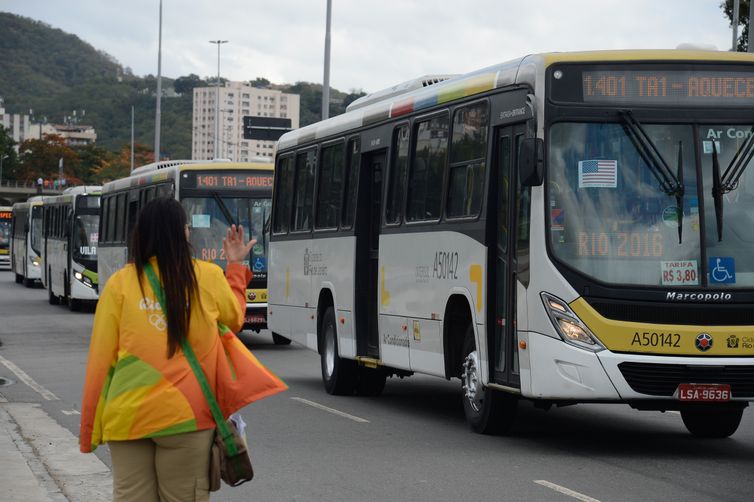 No acordo, o Rio Ônibus se compromete a retirar ações judiciais contra a prefeitura e, depois disso, poderá realizar o reajuste de R$ 0,35 em 10 dias. Segundo a prefeitura, os processos poderiam custar R$ 180 milhões aos cofres municipais.
O valor  das passagens de ônibus era motivo de disputas judiciais que envolveram as empresas, a prefeitura e o Ministério Público. O acordo dá mais prazo para que as empresas ônibus cumpram um antigo compromisso: climatizar 100% da frota, o que, conforme os novos termos, deve ocorrer de forma progressiva até setembro de 2020, antes das próximas eleições municipais.  
Até o fim deste ano, as empresas de ônibus terão que climatizar 60% dos veículos, e, ao fim de 2019, o patamar terá que chegar a 80% da frota. 
Histórico
Um decreto da prefeitura do Rio de 2014 já previa a climatização de toda a frota que circula na cidade até o fim de 2016. Na época, a decisão incluiu um aumento de R$ 0,20 nas passagens.
Antes de o prazo terminar, em 2016, a prefeitura publicou um decreto reduzindo a meta de climatização para 70% das viagens na cidade, o que gerou reação do Ministério Público do Estado do Rio de Janeiro.
Ao longo do ano passado, decisões judiciais reduziram o valor da passagem até R$ 3,40, e o valor foi novamente reajustado, em 2018, para R$ 3,60.
Caixa-preta
Além das metas de climatização, o acordo obriga os consórcios de empresas de ônibus a apresentar balancetes trimestrais de suas operações contábeis e financeiras em um prazo de até 60 dias após a assinatura do termo. A falta de transparência das empresas do setor foi questionada em diversos momentos nos últimos anos, inclusive nas manifestações de junho de 2013, e ficou popularmente conhecida como "caixa-preta" das empresas de ônibus.
"As empresas pequenas, que não tiverem condições de apresentar seu balanço na hora certa ao sistema, à prefeitura e à fiscalização, vão perder a concessão e as que estão apresentando e tendo transparência vão assumir as linhas", diz o acordo.
Os consórcios terão prazo de 24 horas para assumir 50% das linhas que forem operadas por empresas que descumpram o acordo. Em 30 dias, todas as linhas dessas empresas terão que voltar a funcionar.
O Rio Ônibus também se comprometeu a doar matéria-prima para recapeamento de ruas e pistas do BRT.  
Modernização
A prefeitura informou que está em negociações avançadas com o Rio Ônibus para implementar outras medidas que modernizem a frota, como internet wi-fi em ônibus novos e entrada USB, para o carregamento de celulares. Na próxima quarta-feira (6), uma reunião entre empresas de ônibus, prefeitura e fabricantes de ônibus europeus e brasileiros vai discutir um possível novo modelo de veículo que circulará na cidade.
Também está em estudo a criação do aplicativo Ônibus.Rio, que avisará horários e itinerários de todas as linhas da cidade, além de emitir alertas para avisar a hora de desembarcar dos veículos.
Marcelo Crivella anunciou também que terão gratuidade nos ônibus do Rio de Janeiro todas as mães de crianças que nasceram com microcefalia, incluindo as que moram fora da capital. 
Fonte: Agência Brasil.
The news, reports, views and opinions of authors (or source) expressed are their own and do not necessarily represent the views of CRWE World.