O Sindicato do Comércio Varejista de Combustíveis e Lubrificantes e de Lojas de Conveniência (Sindcomb) do município do Rio de Janeiro prevê que o abastecimento nos cerca de 850 postos da capital fluminense estará normalizado até segunda-feira (4).
"Com o feriado de ontem e a consequente redução do número de veículos em circulação, a procura diminuiu, e hoje já é possível detectar mais postos com combustíveis disponíveis e também menos filas formadas por motoristas querendo abastecer seus veículos", informou a assessoria do sindicato.
Praticamente todos os postos da capital já receberam combustível, embora em alguns o produto ainda esteja em falta, devido à grande procura dos últimos dias.
O levantamento aponta pelo menos três postos que, por questões de logística, ainda não receberam nenhuma quantidade de combustível: dois em Pilares e um no Engenho de Dentro, na zona norte.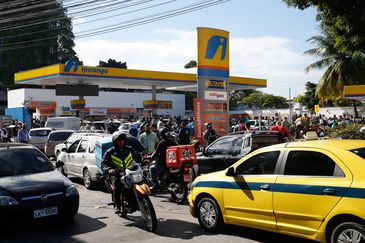 O Sindcomb informou que, também em função da logística, os postos da Barra da Tijuca, na zona oeste, foram os que mais receberam combustíveis desde a última segunda-feira (28), quando o reabastecimento dos postos teve início, ainda que de forma precária.
O abastecimento foi intensificado a partir da noite de terça para a madrugada de quarta-feira, embora os caminhões-tanque ainda tivessem que circular no trecho entre as distribuidoras e os postos com escolta das forças de segurança.
Circulação de ônibus
A Federação das Empresas de Transportes de Passageiros do Estado do Rio de Janeiro (Fetranspor) informou que 100% da frota da entidade circulam pelas ruas da cidade nesta sexta-feira.
Segundo a Fetranspor, a normalização da operação dos 7 mil ônibus que servem ao município e dos mais de 23 mil que circulam em todo o estado foi facilitada pelo feriado de ontem. Com a redução da frota em circulação, foi possível aumentar os estoques de diesel à disposição das empresas de ônibus que atendem ao município e ao estado.
De acordo com a federação, na última segunda, a frota em circulação no estado era de 40%. A continuidade do abastecimento elevou o percentual de circulação para 50% na terça-feira. Na quarta, a operação em todo o estado do Rio vinha se normalizando, exceto em algumas regiões onde o abastecimento não se encontrava totalmente regularizado.
Fonte: Agência Brasil.
The news, reports, views and opinions of authors (or source) expressed are their own and do not necessarily represent the views of CRWE World.