O ministro de Minas e Energia, Moreira Franco, disse hoje (2), no Twitter, que a troca de comando na presidência da Petrobras não vai alterar a política preços da empresa. Segundo o ministro, a estatal continua com liberdade para definir a política de precificação dos combustíveis que, atualmente, segue os preços internacionais do barril de petróleo.
"A troca de comando não alterou a política de preços da Petrobras. A Petrobras continua tendo toda liberdade para aplicar sua política de preços. Mas isso não é incompatível com a busca de ações que mitiguem os impactos de flutuação de preços. Porque governo tem que governar. E é isso o que vamos fazer: proteger as pessoas e atividades econômicas das flutuações internacionais dos preços dos combustíveis", afirmou.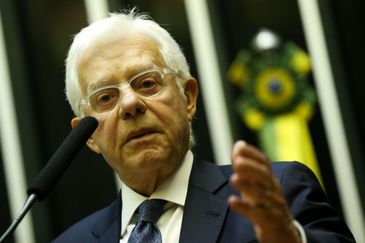 Ontem (1º), Pedro Parente pediu demissão do cargo de presidente da Petrobras. No início da noite, o presidente Michel Temer confirmou o nome de Ivan Monteiro como novo presidente da estatal.
Em pronunciamento à nação, Temer também reafirmou o apoio à política de preços praticada pela empresa. 
"Reafirmo que meu governo mantém o compromisso com a recuperação e a saúde financeira da companhia. Continuaremos com a política econômica que nesses dois anos tirou a empresa do prejuízo e a trouxe para o rol das mais respeitadas do Brasil e do exterior. Declaro também que não haverá qualquer interferência na política de preços na companhia."
Fonte: Agência Brasil.
The news, reports, views and opinions of authors (or source) expressed are their own and do not necessarily represent the views of CRWE World.