Com Neymar no banco e Thiago Silva vestindo a camisa de número dois, que pertencia ao lateral Daniel Alves, cortado após uma lesão no joelho, a Seleção brasileira faz neste domingo (3), no estádio Anfield Road, em Liverpool, na Inglaterra, um jogo amistoso contra a Croácia. O objetivo é testar a equipe para saber as reais condições para a estreia na Copa do Mundo Rússia 2018, no dia 17, diante da seleção suíça, em Samara. O amistoso será às 11h (horário de Brasília). 
 
De acordo com Tite, se a Copa começasse hoje, a equipe formada por Alisson, Danilo, Thiago Silva, Miranda e Marcelo; Casemiro, Fernandinho e Paulinho; Willian, Phillipe Coutinho e Gariel Jesus; seria a titular. O treinador explicou que, no momento, esses jogadores são os melhores.
Sobre a ausência de Roberto Firmino na equipe titular, que fez um excelente campeonato inglês e uma Liga dos Campeões de qualidade pelo Liverpool, Tite reconheceu o atual momento do jogador, mas que Gabriel Jesus está "arrebentando". O importante, segundo o treinador, é que Firmino vem colocando "pressão", ou seja, trabalhado com intensidade pela titularidade, e a qualquer momento pode ser escalado.
Treino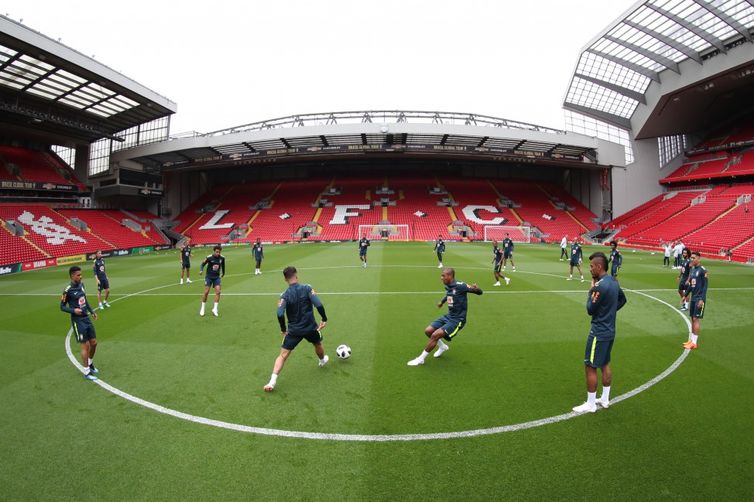 Na tarde deste sábado, os jogadores fizeram um reconhecimento de campo no Anfield Road. Em treino de pouco mais de uma hora, foram trabalhadas jogadas de bola rolando e também cobranças de falta e escanteios.
Tite destacou a importância de os treinamentos serem realizados com excelência, com os jogadores exigindo cada vez mais de si mesmos, competindo lealmente pela vaga de titular. "Tem que ser assim, senão você não prepara. Ah, mas corre o risco de machucar? Corre. O risco de machucar ele [jogador] corre mais em se poupar, do que em fazer os movimentos naturais se tiver competitivo", disse.
Fonte: Agência Brasil.
The news, reports, views and opinions of authors (or source) expressed are their own and do not necessarily represent the views of CRWE World.