As seleções do Brasil e da Croácia já estão no Estádio Anfield Road, em Liverpool. As duas equipes acabaram de fazer o aquecimento no gramado. Numa linda tarde de sol, a torcida já ocupa grande parte das arquibancadas. 
O jogo, marcado para as 11h, é válido como preparação para a Copa do Mundo Rússia 2018 e reunirá jogadores que se conhecem de seus clubes, como Casemiro e Marcelo com Modric e Kovacic, do Real Madrid; Paulinho e Philippe Coutinho com Raktic, do Barcelona; Roberto Firmino e Lovren; do Liverrpool; e Miranda com Perisic e Brozovic, da Inter, da Itália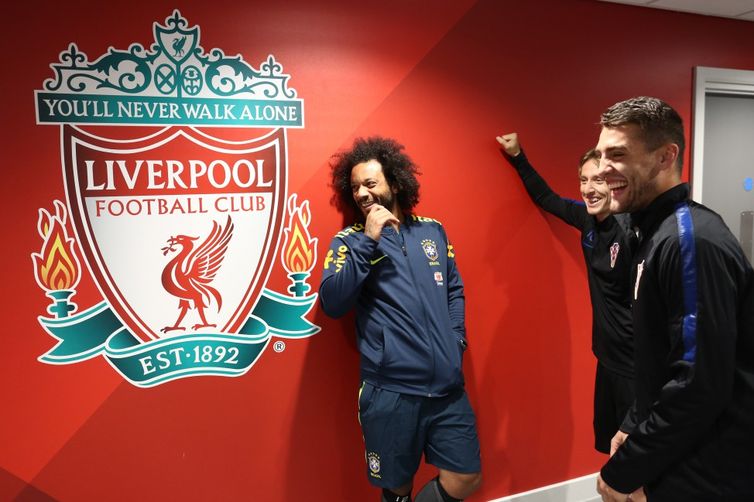 "Além da qualidade técnica indiscutível, o Raktic foi um cara que me ajudou muito quando cheguei ao Barcelona. Me falou bastante sobre o estilo de jogo do clube, me aconselhou e nos tornamos bons amigos", disse Paulinho.
A grande expectativa é quanto a participação de Neymar no segundo tempo conforme garantiu o treinador Tite, durante entrevista à imprensa nesse sábado (2). Ele, no entanto, não adiantou quem dará lugar ao jogador, que não participa de um jogo desde que sofreu uma lesão no pé direito há mais de três meses. A dúvida é entre Willian e Phillipe Coutinho.
O Brasil incia o jogo comAlisson, Danilo, Thiago Silva, Miranda e Marcelo; Casemiro, Fernandinho e Paulinho; Willian, Phillipe Coutinho e Gabriel Jesus.
Fonte: Agência Brasil.
The news, reports, views and opinions of authors (or source) expressed are their own and do not necessarily represent the views of CRWE World.