Depois de duas semanas de treinamentos, na Granja Comary, em Teresópolis, e no Centro de Treinamento do Tottenham, em Londres, na Inglaterra, a seleção brasileira de futebol fez hoje (3) contra a Croácia, equipe que também vai jogar a Copa do Mundo na Rússia, o seu primeiro jogo-teste, visando o Mundial.
O Brasil começou a partida com um esquema mais defensivo, com Casemiro, Paulinho e Fernandinho. Com essa formação, a equipe comandada por Tite foi pressionada pela Croácia, que conseguiu algumas jogadas de perigo contra o gol brasileiro. A grande quantidade de jogadores das duas seleções ocupando o meio de campo fez com a partida fosse caracterizada por muita marcação.
A partir dos 10 minutos de jogo, o time da Croácia passou a explorar o lado esquerdo do Brasil, a fim de aproveitar as subidas do lateral Marcelo. Tite, inclusive, chamou Marcelo à beira do gramado, e o orientou sobre a presença de Modric um dos principais jogadores croata, por aquele lado do campo.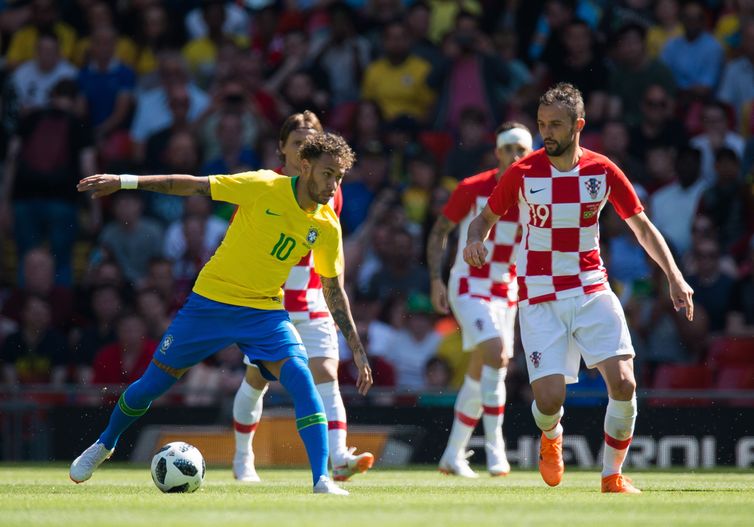 A partir dos 20 minutos do primeiro tempo, a seleção brasileira, para sair da pressão exercida pela Croácia, alterou um pouco a saída da bola, fazendo lançamentos longos, explorando a velocidade de Willian pelo lado esquerdo da defesa adversária.
Por causa da marcação forte em Phillipe Coutinho pelo lado direito, o jogador inverteu a posição com Willian, e passou a ocupar o espaço pela esquerda. O objetivo era confundir a marcação adversária. Apesar das mudanças táticas, as duas seleções insistiam em concentrar suas ações no meio de campo.
Aos 30 minutos, o time brasileiro ainda sentia dificuldade de atacar, pois só tinha conseguido finalizar no gol croata em duas oportunidades. As jogadas longas, com bolas alçadas pelas laterias eram as únicas usadas pelo Brasil e que ofereciam perigo à defesa da Croácia. Em uma delas, Paulinho apareceu de surpresa pelo lado direito da defesa adversária, fez o passe para o meio da área, mas Gabriel Jesus estava bem marcado e foi neutralizado.
O primeiro tempo terminou, com as duas seleções mantendo o mesmo esquema do começo do jogo, concentrando a maioria dos jogadores no meio de campo e com poucas jogadas de gol. A partida também foi caracterizada por uma marcação forte dos dois times, inclusive com as alguns lances ríspidos.
Segundo tempo
No segundo tempo, Tite fez a mudança prometida: colocou Neymar no lugar de Fernandinho, ou seja, trocou um jogador de meio de campo por um atacante. Com isso, a seleção ficou mais ofensiva e passou a dominar o jogo. Assim Gabriel Jesus, que passou o primeiro tempo muito isolado, passou a ter Neymar ao seu lado. Com a alteração, no terceiro minuto, o time brasileiro já tinha atacado duas vezes, assustando a defesa croata.
Ao contrário do primeiro tempo, com a seleção muito defensiva, a presença de Neymar deixou o Brasil mais solto no ataque, fazendo, inclusive, com que o lateral esquerdo Marcelo participasse mais das jogadas ofensivas. Aos 11 minutos, uma triangulação entre Neymar, Phillipe Coutinho e Gabriel Jesus, Neymar chutou perigosamente contra o gol croata.
Aos 15 minutos, Tite fez outras mudanças na equipe, colocando Felipe Luís no lugar de Marcelo, e Roberto Firmino no de Gabriel Jesus. Aos 19 minutos, Marquinhos entrou no lugar de Miranda, passando a fazer a dupla de zaga com Thiago Silva, seu companheiro no Paris Saint German.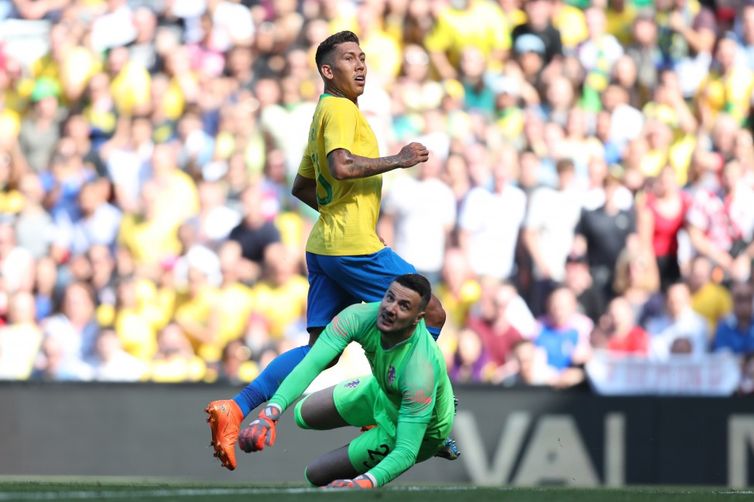 Aos 23 minutos, numa jogada de triangulação pela esquerda, Neymar recebeu de Phillipe Coutinho, passou pelo seu marcador e chutou de dentro área, marcando o primeiro gol do Brasil.
Após o gol de Neymar, a seleção brasileira passou a ter o domínio completo da partida. Neymar, Coutinho e Willian dominavam os dois lados do campo, abrindo a marcação da Croácia. O time croata recuou, explorando apenas jogadas de contra-ataque.
Aos 36 minutos, Tite fez mais duas mudanças no Brasil: Taisson entrou no lugar de Phillipe Coutinho e Fred no de Willian. As alterações, no entanto, não diminuíram o ritmo da seleção, que permaneceu no ataque.
Até o fim da partida, a equipe brasileira manteve a posse da bola, impedindo que a Croácia oferecesse perigo à defesa. Aos 43 minutos, Roberto Firmino, numa troca de passe com Danilo, avançou pela direita e da entrada da área chutou contra o gol croata, mas a bola passou por cima. Na beira do gramado, Tite pedia que o time mantivesse a posse da bola.
Aos 45 minutos, mais uma vez Roberto Firmino, após uma sobra de bola, em frente à área adversária, voltou a chutar perigosamente ao gol. Aos 48 minutos, depois de tentar duas vezes, Roberto Firmino faz o segundo gol brasileiro, após um lançamento de Paulinho. O jogo terminou sem que a Croácia tivesse tempo de fazer a saída de bola.
Numa entrevista rápida, ainda no campo, o lateral direito Danilo disse que a seleção está num bom caminho, destacando que a defesa manteve a segurança atrás e isto o deixava muito satisfeito.
O Brasil volta a jogar contra a seleção da Áustria, em Viena, no dia 10 de junho. O time brasileiro estreia nna Copa do Mundo da Rússia, enfrentando a Suíça no dia 17, em Rostov On Don.
Fonte: Agência Brasil.
The news, reports, views and opinions of authors (or source) expressed are their own and do not necessarily represent the views of CRWE World.