O ministro da Segurança Pública, Raul Jungmann, disse hoje (4) que o comitê criado pelo governo para gerenciar a crise dos caminhoneiros será mantido para as eleições deste ano. Segundo Jungmann, a questão envolvendo a paralisação dos caminhoneiros e o desabastecimento no país caminha para os níveis de normalidade, mas o grupo passará a monitorar a disseminação de notícias falsas (fake news) na internet. A decisão de manter o comitê foi tomada nesta segunda-feira.
"Numa decisão tomada hoje, vamos continuar mantendo o comitê que se reuniu, não mais focado na crise, mas na conjuntura política. Porque temos um período de eleições à frente, sabemos que temos que prestar atenção nas fake news", afirmou Jungmann. Ele disse que o monitoramento padrão será feito na rede aberta, mas que, eventualmente, poderão ser feitos pedidos à Justiça para monitorar indivíduos específicos.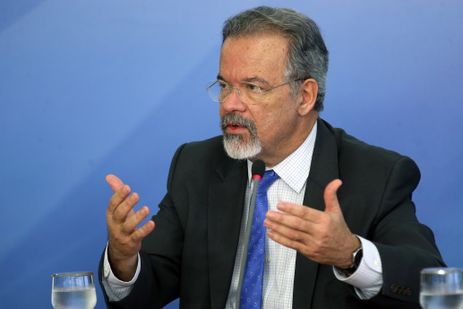 "A gente acompanha a rede aberta. Quando necessário, com indícios fundamentados, a gente faz uma requisição judicial para monitorar alguém específico na rede. [...] Partidos e sindicatos têm cada vez menos representatividade e, por isso, precisam ser reformulados. E mais: é preciso a gente entender que o empoderamento da rede veio para ficar", disse o ministro. Para Jungmann, plantar informações mentirosas sobre um candidato no centro do debate político é "um risco para a democracia".
Dentre os integrantes do comitê que se reuniu diariamente nas últimas duas semanas para monitorar a situação das estradas estavam os ministros do Gabinete de Segurança Institucional (GSI), Sérgio Etchegoyen; da Casa Civil, Eliseu Padilha; da Secretaria de Governo, Carlos Marun; e o chefe do Estado Maior-Conjunto das Forças Armadas, almirante Ademir Sobrinho, além de Jungmann. Ele não adiantou, porém, quais nomes continuarão no comitê daqui para a frente.
A partir de provedores localizados em diferentes países, notícias falsas têm impactado os últimos debates públicos mais relevantes, como as eleições nos Estados Unidos e os plebiscitos sobre a saída do Reino Unido da União Europeia e sobre o acordo de paz entre o governo colombiano e as Forças Armadas Revolucionárias da Colômbia (Farc). A menos de um ano das eleições gerais, agora é o Brasilque se vê diante do problema.
*Colaborou Kariane Costa, do Radiojornalismo
Fonte: Agência Brasil.
The news, reports, views and opinions of authors (or source) expressed are their own and do not necessarily represent the views of CRWE World.