Pelo menos mais 11 veículos, entre carros e ônibus, foram incendiados em, pelo menos, sete cidades de Minas Gerais entre as 18 horas de segunda-feira (4) e a madrugada de hoje (5). No total, 35 veículos foram queimados desde o início da série de ataques criminosos no estado, no último domingo (3), segundo a Polícia Militar.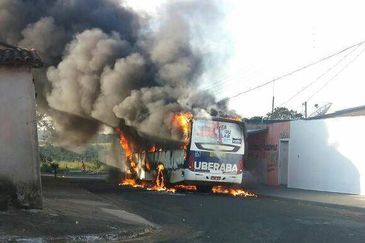 A PM informou que as ocorrências desta segunda noite de ataques foram registradas nos municípios de Itajubá, Luz, Passos, Tupaciguara, Uberaba, Uberlândia e Varginha. A imprensa local relata que também houve novos casos em Alterosa, Alfenas, Araxá, Machado, Três Pontas, Itajubá e Ipuiuna, mas a PM não confirmou a informação.
Desde o domingo, duas agências bancárias, um caixa eletrônico de autoatendimento, uma delegacia, uma unidade da PM e uma usina de reciclagem também foram alvos de ataques ou ações suspeitas. As autoridades de segurança pública ainda investigam o vínculo entre todas as ocorrências.
Até o momento, não há registros de feridos. Quarenta suspeitos de participar das ações criminosas já foram levados para prestar depoimentos. O governador Fernando Pimentel determinou às forças de segurança pública que priorizem identificar e punir os responsáveis pelos ataques.
As autoridades estaduais procuram manter em segredo os resultados preliminares das investigações, mas, em particular, representantes da PM e da Polícia Civil admitem que uma das hipóteses é de que os ataques sejam comandados por líderes de uma facção criminosa.
Ontem, o porta-voz da PM mineira, major Flávio Santiago, disse que a hipótese de participação de organizações criminosasganhou força após áudios atribuídos a bandidos serem compartilhados pelas redes sociais. Segundo o porta-voz, a veracidade das mensagens foi descartada pelo serviço de inteligência da corporação, que concluiu que os áudios não tinam conexão com os crimes recentes.
Fonte: Agência Brasil.
The news, reports, views and opinions of authors (or source) expressed are their own and do not necessarily represent the views of CRWE World.