O Brasil produz mais de 78,3 milhões de toneladas de resíduos sólidos por ano, dos quais 13,5% – o equivalente a 10,5 milhões de toneladas – são de plástico. Se o total desse montante de plástico fosse reciclado, seria possível retornar cerca de R$ 5,7 bilhões para a economia, segundo levantamento do Sindicato Nacional das Empresas de Limpeza Urbana (Selurb).
"O Brasil ainda destina inadequadamente cerca de 40% de todo o resíduo gerado no país. São bilhões de reais que poderiam ser revertidos para a construção ou modernização de aterros sanitários, ampliação dos serviços de coleta e outras atividades relacionadas à limpeza urbana. O gerenciamento de resíduos envolve uma rede complexa de atividades e a reciclagem é um pilar que precisa começar a ser desenvolvido como oportunidade de negócio. Do contrário, não terá resultado concreto", explica Marcio Matheus, presidente do Selurb.
Previsão de crescimento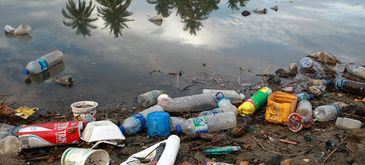 A entidade avalia que os números refletem uma realidade mundial e que o aumento do poder de compra da população e os altos investimentos em novas fábricas e tecnologias serão responsáveis por um crescimento de cerca de 30% na produção de plástico em menos de 10 anos.
Uma das alternativas em relação à gestão de resíduos sólidos apontadas pela entidade seria a erradicação dos quase 3 mil lixões existentes no país e a implantação de uma rede regionalizada de aterros sanitários, para tratar adequadamente os resíduos.
"Se ilude quem acha que é possível fazer reciclagem em um país continental sem buscar soluções de escala. A reciclagem só será possível quando houver viabilidade econômica, o que inclui incentivos governamentais, com isenções fiscais, e estrutura logística para tal. A primeira medida é desenvolver soluções logísticas que concentrem esses materiais, como ecoparques – que apresentam, também, a estrutura dos aterros legalizados. A partir disso, será possível diluir os altos custos logísticos e trazer viabilidade econômica para que os materiais recicláveis cheguem à indústria a um preço atrativo, como aconteceu nos EUA", aponta o engenheiro especialista em sustentabilidade, Carlos Rossin.
Fonte: Agência Brasil.
The news, reports, views and opinions of authors (or source) expressed are their own and do not necessarily represent the views of CRWE World.