A Seleção Brasileira se manteve em segundo lugar no ranking da Federação Internacional de Futebol (Fifa). A Alemanha também continua no topo da lista. Em relação a maio, não houve nenhuma mudança nas sete primeiras colocações neste último ranking antes da Copa do Mundo da Rússia, que começa na próxima quinta-feira (14).
Depois do Brasil, aparecem as seleções da Bélgica (3ª colocação), Portugal (4ª), Argentina (5ª), Suíça (6ª) e França (7ª). A grande surpresa foi a equipe da Polônia, que passou da décima para a oitava posição. O Chile manteve-se em nono. Com a movimentação da Polônia, a Espanha caiu duas posições e aparece na décima posição.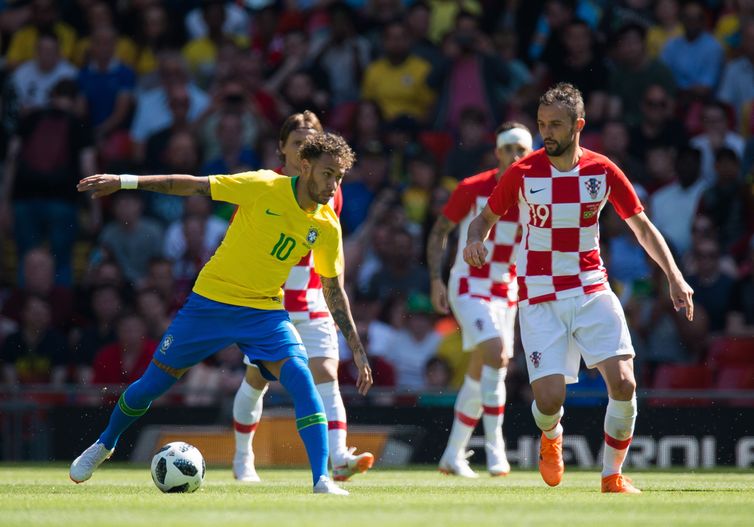 Inglaterra e Uruguai também subiram no ranking. Os ingleses avançaram uma posição e aparecem na 12ª colocação (empatados com os dinamarqueses). Já os uruguaios passaram para 14ª colocação, depois de subir três posições.
Entre as equipes da Copa, a principal queda foi da seleção da Tunísia, que perdeu sete posições e aparece na 21ª colocação. A anfitriã Rússia caiu quatro colocações e está na pior posição entre os participantes (70ª).
Veja a posição das equipes que participarão do Mundial da Rússia:
1º Alemanha
2º Brasil
3º Bélgica
4º Portugal
5º Argentina
6º Suíça
7º França
8º Polônia
10º Espanha
11º Peru
12º Dinamarca
12º Inglaterra
14º Uruguai
15º México
16º Colômbia
20º Croácia
21º Tunísia
22º Islândia
23º Costa Rica
24º Suécia
27º Senegal
34º Sérvia
36º Austrália
37º Irã
41º Marrocos
45º Egito
48º Nigéria
55º Panamá
57º Coreia do Sul
61º Japão
67º Arábia Saudita
70º Rússia
Fonte: Agência Brasil.
The news, reports, views and opinions of authors (or source) expressed are their own and do not necessarily represent the views of CRWE World.