O debate sobre a tabela do preço mínimo do frete, que foi divulgada na semana passada, mas pode ser alterada pela Agência Nacional de Transportes Terrestres (ANTT), contará com audiências públicas no Congresso Nacional. A comissão mista da medida provisória que trata do tema deve aprovar na semana que vem requerimentos para ouvir especialistas e representantes do setor de transporte de cargas.
Na tarde de hoje (6), os deputados e senadores instalaram a comissão mista que vai discutir a Medida Provisória (MP) 832, uma das ações anunciadas pelo presidente Michel Temer no último dia 27, na tentativa de atender a demandas dos caminhoneiros que paralisaram as rodovidas do país. Em sua primeira manifestação após ter sido designado relator da matéria, o deputado Osmar Terra (MDB-RS) afirmou que o caminhoneiro será a "principal preocupação" dos parlamentares.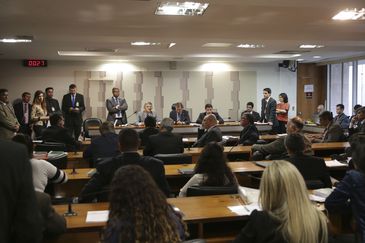 "Assumo o compromisso de trabalhar efetivamente, ouvir os setores envolvidos para que essa comissão dê um resultado para o Brasil", disse. Segundo ele, há a necessidade de se fazer um acordo que permita ao caminhoneiro "viver do seu trabalho". "Vamos procurar trabalhar para que não só o caminhoneiro seja protegido, mas todos participantes dessa cadeia. O caminhoneiro é a nossa principal preocupação", disse.
Reivindicação dos caminhoneiros durante a greve que durou mais de dez dias, a primeira tabela com os preços mínimos que os caminhoneiros deverão cobrar no frete foi divulgada no último dia 30. Após críticas de representantes do agronegócio, a ANTT admitiu a possibilidade de ajustar alguns valores.
O deputado Henrique Fontana (PT-RS), membro da comissão, informou que apresentará requerimentos para que "diferentes associações dos caminhoneiros" participem das audiências públicas. Segundo ele, o compromisso da bancada petista é defender a tese de que "é correta haver uma regulação mínima" no setor de transportes de cargas.
"Eu já li, como vossas excelências leram nos últimos dias, uma reação que considero muito inadequada por parte de alguns setores que estão dizendo que a construção de uma tabela de valores mínimos para o frete seria algo que o país não deveria ter. Se não tivermos uma tabela com valores mínimos adequada, num ambiente de recessão, o setor de transporte pode ser aviltado de tal maneira que quebre", avaliou.
Já o deputado Domingos Sávio (PSDB-MG), outro integrante do colegiado, defendeu a necessidade de se encontrar mecanismos para que o Brasil volte a crescer, sob o risco de existirem em "curto prazo" outros movimentos semelhantes. Apesar da necessidade de votar com agilidade as matérias devido ao calendário apertado em ano eleitoral, o parlamentar lembrou da responsabilidade em se criar uma solução adequada para que o problema não volte à tona novamente.
"A comissão é muito importante, mas não é um tema simples. Não é como se tabelasse um produto isoladamente. Nós estamos falando de frete num país continental de mais de 5 mil municípios, de 27 unidades da federação, de distâncias de milhares de quilômetros, com rodovias as mais variadas - estradas de chão, mal pavimentadas, e de cargas as mais diversas", opinou.
Fonte: Agência Brasil.
The news, reports, views and opinions of authors (or source) expressed are their own and do not necessarily represent the views of CRWE World.