Após cerca de duas horas de ocupação do prédio do Ministério das Cidades na tarde de hoje (7), manifestantes deixaram o local e foram recebidos pelo ministro da pasta, Alexandre Baldy. Representantes de seis movimentos por moradia vindos de 16 estados cobraram do ministro mais recursos para as políticas habitacionais, principalmente para o programa Minha Casa, Minha Vida.
"A situação da habitação só se agrava. O acidente ocorrido em São Paulo é um que aconteceu em meio a tantos outros, com despejos, incêndios, de gente morando nas ruas", disse a militante da União Nacional por Moradia Popular, Evanisa Rodrigues, em alusão ao prédio no Largo do Paissandu, em São Paulo, que desabou após incêndio e deixou cinco mortos e dois desaparecidos.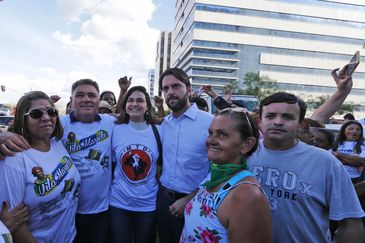 Também participaram do ato representantes da Central dos Movimentos Populares, da Confederação Nacional de Associações de Moradores, do Movimento de Luta de Bairros e Favelas, do Movimento das Trabalhadoras e Trabalhadores por Direitos e do Movimento Nacional de Luta por Moradia.
Baldy negou corte de recursos para as políticas habitacionais e informou que serão publicadas amanhã (8), no Diário Oficial da União, novas contratações para o Programa Nacional de Habitação Urbana e para o Programa Nacional de Habitação Rural.
"O Ministério das Cidades, dentro do Programa Minha Casa, Minha Vida, tem em torno de R$ 9,7 bilhões para contratações no Orçamento Geral da União e de R$ 63 bilhões do FGTS [Fundo de Garantia do Tempo de Serviço] para habitação", disse.
Segundo o ministro, a expectativa para este ano é contratar novas 700 mil unidades habitacionais. Baldy também informou que 410 mil obras paralisadas foram retomadas. "Para 2018, entre as obras que estão em andamento e as que serão contratadas, serão mais de 1,1 milhão moradias no país", afirmou. 
Fonte: Agência Brasil.
The news, reports, views and opinions of authors (or source) expressed are their own and do not necessarily represent the views of CRWE World.