A crise econômica e o momento político complicado do país aos poucos vão dando lugar à euforia nas ruas, com a aproximação da Copa do Mundo, que começa na próxima quinta-feira (14), com o jogo Rússia x Arábia Saudita. No Saara, comércio popular no centro do Rio, decorado com bandeiras do Brasil, para onde se olha, as lojas exibem as cores verde e amarelo nas vitrines e nos balaios do lado de fora, lembrando - mesmo aos mais desavisados - a aproximação da competição mais importante do futebol mundial.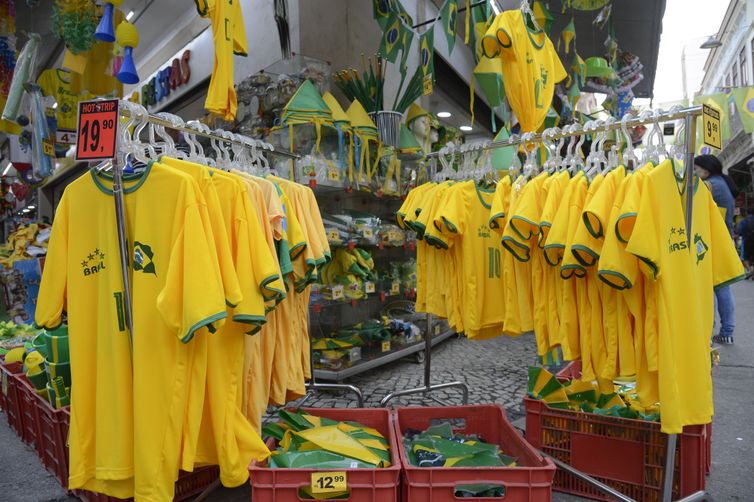 Embora as vendas ainda estejam engatinhando, os comerciantes esperam que tudo se acelere nos próximos dias, assim que a seleção brasileira entrar em campo, podendo melhorar ainda mais, de acordo com os resultados. Os estoques de cornetas, camisetas, bandeiras de todos os tamanhos, óculos e demais apetrechos estão abarrotados, na esperança de uma grande participação do Brasil, que vá até a final, dia 15 de julho, em Moscou.
"A Copa é boa para levantar o astral. Se o Brasil ganhar, tudo vai melhorar no país. E o comércio é o termômetro disso", declarou o comerciante chinês Chong Long, em um português quase perfeito. Perguntado para quem ia torcer na Copa, Chong nem pensou: "Sou 100% Brasil". No país há 25 anos, ele é proprietário de uma loja de artigos importados diversos, mas que nesta época é praticamente tomada por artigos da Copa. São desde camisetas amarelas à R$ 15 no varejo e R$ 12 no atacado, até bandeirões gigantes, a R$ 50. Mas se o dinheiro for curto, dá para comprar uma cornetinha por R$ 2.
Enquanto Chong trabalha nos fundos da loja, o vendedor Fábio Gomes fica na frente, para atender os clientes que entram em busca de algum artigo. Ele reconhece que as vendas ainda estão devagar, mas espera que melhorem nos próximos dias. Bom entendedor de futebol, fala com desenvoltura da seleção de Tite e acredita que, desta vez, o time vai chegar à final.
"As pessoas vão se animando, conforme o rendimento do Brasil. O comerciante faz um grande investimento em produtos, mas se o time não ganha, fica tudo encalhado. Estamos aproveitando para vender muita coisa da Copa passada, que estava guardada no estoque", disse Fábio.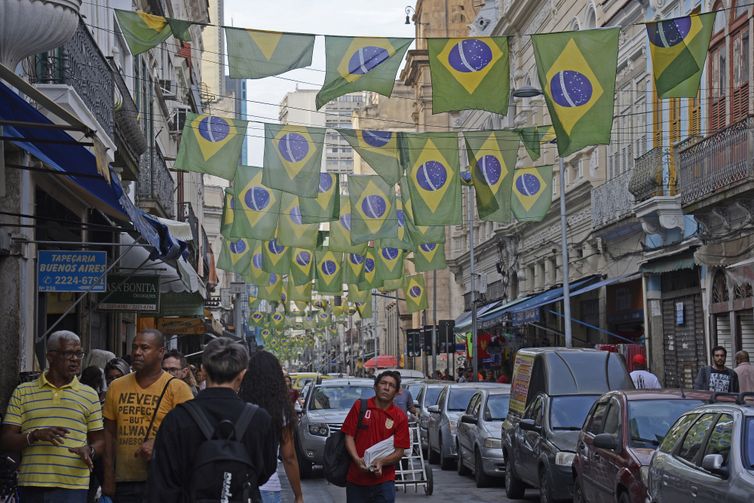 Em frente à loja, no outro lado da rua, os amigos Célio Silva e Ely Freitas comentavam sobre a seleção. "O vexame da Copa passada deu uma gelada. Mas o brasileiro é emotivo, deixa tudo para a última hora", dizia Célio, sobre o ritmo lento no comércio. "Foi um vexame, mas o brasileiro esquece muito rápido. A derrota para a Alemanha já foi assimilada. O que está difícil é a situação econômica. Até para a cerveja está faltando", completou Ely.
Resultados
A poucos metros de distância, outra loja abarrotada de artigos verde e amarelo é a de Carlos Silvestre. São tantos produtos, que nem cabem dentro do estabelecimento e têm que ser expostos na calçada, em grandes balaios, atraindo a atenção de quem passa.
"Em 2014, o movimento estava ótimo, até o 7 x 1. Depois acabou. Este ano, investi uns R$ 25 mil em produtos. Vou ganhar ou perder, de acordo com os resultados do Brasil", disse ele, que vende por varejo ou atacado.
Uma das clientes é a comerciante Bianca de Andrade, que vem de Niterói para comprar os artigos e revender em sua loja. Ressabiada com os resultados da última Copa, ela estava levando pouca coisa, entre cornetas e bandeirinhas, só para testar as vendas. "Ainda não estou levando muita fé", confessou Bianca.
Outros clientes, porém, como Alessandra dos Santos, compravam com mais esperança nos resultados do Brasil, aproveitando os bons preços das lojas da Saara. "Estou comprando 13 camisetas, para a turma de escola da minha filha", disse Alessandra, pagando cada peça R$ 9,90.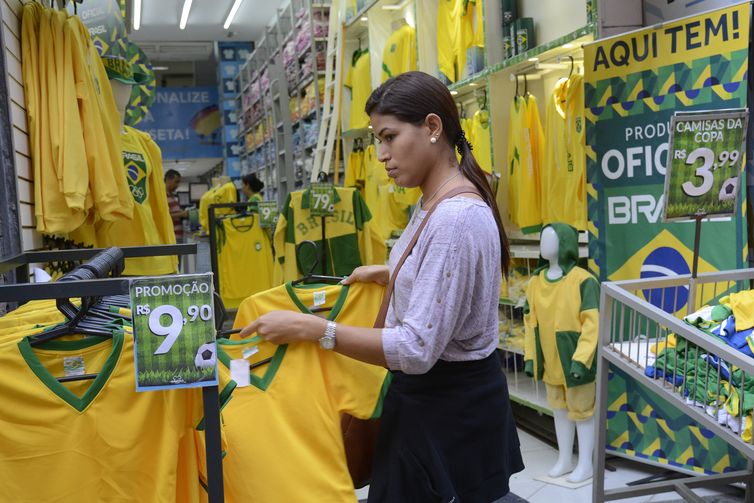 Próximo da Saara, um ponto tradicional de bares e restaurantes, a Rua do Lavradio, já está toda enfeitada, com as bandeiras das 32 seleções penduradas, de quatro em quatro, conforme os grupos da competição mundial. A ideia é da decoradora e sócia de um dos restaurantes, Elma Cola.
"Resolvemos dar uma alegrada na rua. Pois onde há alegria, dificilmente há violência. Nós somos brasileiros e vamos festejar a Copa", disse Elma. Nos dias de jogos do Brasil, haverá telões na rua, para que os torcedores que não forem dispensados do trabalho possam sair dos escritórios e acompanhar a seleção, na busca do tão sonhado hexacampeonato.
Fonte: Agência Brasil.
The news, reports, views and opinions of authors (or source) expressed are their own and do not necessarily represent the views of CRWE World.