Em entrevista exclusiva à TV Brasil, o presidente Michel Temer fez hoje (7) um forte desabafo sobre o bombardeio de denúncias que vem sofrendo há praticamente um ano. Segundo Temer, o que estão tentando fazer é o  "esquartejamento político e moral do presidente da República". "Não é um movimento investigativo; é político, para desmoralizar o governo", disse.
"Lamento ter de dizer que é violação dos direitos constitucionais. O tratamento que me dão é indigno. Estou sendo vilipendiado", completou em entrevista à jornalista Roseann Kennedy, no programa Nos Corredores do Poder.
O presidente afirmou que os inquéritos são prorrogados por "mais e mais tempo na tentativa de alcançar o presidente da República", mas que nunca houve provas de irregularidades. "Vão buscar coisas já arquivadas, de 1998. Encontraram um documento não sei onde, de não sei quantos anos atrás e querem saber o que o Temer tem a ver com isso. O Brasil está neste tom. É insuportável. Mas isso não paralisa o governo não; pelo contrário", afirmou.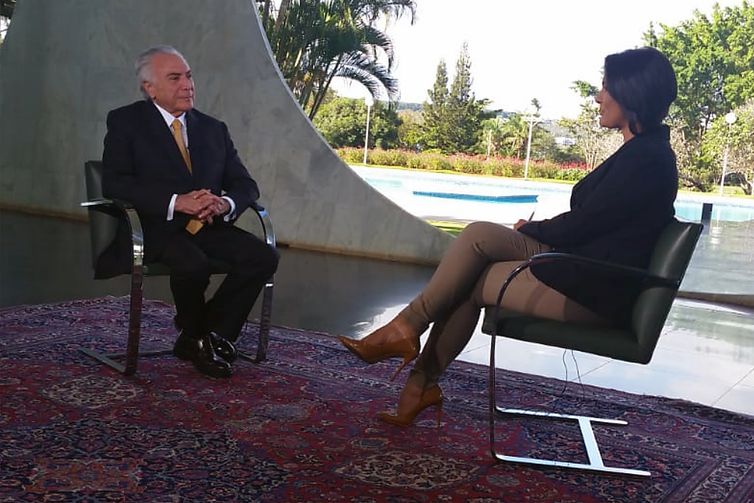 O presidente disse ainda que não tem preocupações com a quebra de seu sigilo bancário ou telefônico. "Não me incomodo; é indevido, mas não vou recorrer. Podem ver minhas modestíssimas contas bancárias. Tenho 50 anos ou mais de serviço e como patrimônio coisa mínima. Não tenho fazendas, empresa, casa de praia, casa de campo", enumerou. "É um desplante, mas fiquem à vontade. Podem repastar-se. Mas isso não pode continuar assim", reclamou.
"Se me permitem uma expressão grosseira, digo que vão quebrar a cara [sobre pedido da Polícia Federal de quebra de sigilo telefônico, referente a 2014]. Podem olhar tudo; verifiquem com quem eu falei", desafiou. 
Atualmente, são duas investigações contra o presidente. Uma diz respeito ao Decreto dos Portos. O que está sendo investigado é se a empresa Rodrimar S/A foi beneficiada intencionalmente pela edição do decreto, de 2016. A outra investigação é sobre um suposto favorecimento à empreiteira Odebrecht pela antiga gestão da Secretaria de Aviação Civil da Presidência da República entre 2013 e 2015. 
O presidente lembrou que as coisas positivas feitas pelo governo costumam não ser atribuídas a ele. "A área economia caiu do céu? Não. Havia um.presidente preocupado com a recuperação do país que trouxe essas pessoas para o governo", avaliou.
"Fizemos a reforma do ensino médio, criamos a maior reserva marinha do mundo, melhoramos  a saúde; não foi só na economia que atuamos", completou.
Fonte: Agência Brasil.
The news, reports, views and opinions of authors (or source) expressed are their own and do not necessarily represent the views of CRWE World.