O Ministério Público Federal (MPF) denunciou hoje (7) 62 pessoas pelos crimes de lavagem de dinheiro, evasão de divisas e corrupção contra o sistema financeiro internacional. Entre eles, está o ex-governador do Rio de Janeiro Sérgio Cabral (MDB). Também é acusado Dario Messer, que foi apontado como o "doleiro dos doleiros", que está foragido desde a deflagração da Operação Câmbio, Desligo.
As acusações são baseadas nas investigações conduzidas pela operação, um dos desdobramentos da Lava Jato no Rio de Janeiro. Também foram levadas em conta declarações e documentos apresentados por Juca Bala, apontado como doleiro de Cabral, e por seu sócio Cláudio Barboza, conhecido como Tony. Os dois estão entre os denunciados, mas fizeram acordos de delação premiada que podem aliviar suas penas. A denúncia contém 816 páginas e cabe agora ao juiz federal Marcelo Bretas decidir pela abertura de processo penal, aceitando a denúncia e transformando os acusados em réus.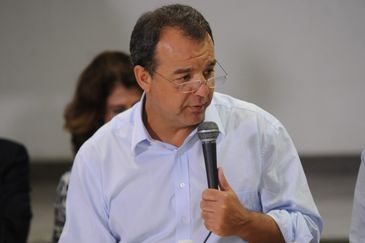 A Operação Câmbio, Desligo foi deflagrada no início do mês passado com o objetivo de desarticular uma rede de doleiros que lavava dinheiro para diversas organizações criminosas, entre elas a que seria liderada por Sérgio Cabral. Na ocasião, haviam sido emitidos 49 mandados de prisão preventiva. Nem todos foram cumpridos e algumas pessoas são consideradas foragidas.
Na denúncia, o MPF registra que os delatores Juca Bala e Tony revelaram sofisticados esquemas de movimentação de recursos no Brasil e no exterior, que teriam sido desenvolvidos com intuito de driblar a fiscalização. As operações seriam realizadas na modalidade dólar cabo, uma forma de transação paralela que não passa pelo sistema bancário e que envolve entrega de dinheiro em espécie, pagamento de boletos, liquidações por meio de cheques do comércio e compra e venda de dólares.
"Agentes públicos corruptos são grandes compradores de dólares, pois recebem reais em espécie no Brasil, fruto de propina, e precisam enviar ao exterior por meio do sistema paralelo acima descrito para suas contas ocultas. Sérgio Cabral é um exemplo dessa tipologia, tendo enviado ao exterior, pelo menos, mais de US$ 101 milhões pelo sistema de dólar cabo", registra a denúncia.
Três mil offshores
Os doleiros operavam com programas que contavam com criptografia para evitar a interceptação das autoridades e usavam um sistema informatizado próprio, que ganhou o nome de Bankdrop, entregue ao MPF por Juca Bala e Tony. Nele, estão registradas transações internacionais com dados sobre as contas, bancos, beneficiários, datas e valores. São relacionadas operações envolvendo 3 mil offshores, distribuídas em 52 países. As transações somam mais US$ 1,65 bilhão.
Juca Bala e Tony atuavam a partir do Uruguai e funcionavam como verdadeira instituição financeira. Eles tinha contas-correntes com cada um dos outros doleiros da rede, por meio das quais faziam as compensações de transações. No entanto, a maior parte dos lucros da atividade ficava com Dario Messer, que respaldava as operações com seu nome e ficava responsável pela captação de clientes.
"Era o sócio capitalista do negócio, aportando recursos e dando lastro às operações de câmbio realizadas por seus sócios minoritários", registra a denúncia. Para o MPF, Messer criou uma gigantesca rede de lavagem de dinheiro, essencial para a prática de crimes como corrupção, sonegação tributária e evasão de divisas. Por isso, acabou tratado como o "doleiro dos doleiros".
Queiroz Galvão
As investigações revelam ainda a possível existência de pagamentos de propinas no valor de R$ 23,9 milhões da construtora Queiroz Galvão a Sérgio Cabral, entre 2011 e 2014. Os doleiros Raul Davies e Jorge Davies teriam ajudado o ex-governador em 33 ocasiões a receber parcelas desse montante. Segundo o MPF, os recursos tinham relação com, pelo menos, três obras custeadas com verbas federais do Programa de Aceleração do Crescimento (PAC): as construções do Arco Metropolitano e da Linha 4 do metrô e as ações de urbanização na comunidade da Rocinha.
Esta é a 24ª denúncia contra o ex-governador Sérgio Cabral formulada a partir de investigações derivadas da Operação Lava Jato. Em cinco processos, ele já foi condenado em primeira instância a penas que somam 100 anos de prisão. No mês passado, uma dessas condenações, de 14 anos e 2 meses, foi mantida em segunda instância. O ex-governador está cumprindo pena no Complexo Penitenciário de Gericinó, em Bangu, na zona oeste do Rio de Janeiro. Procurada pela Agência Brasil, a defesa de Sérgio Cabral ainda não deu retorno.
Queda de braço
A Operação Câmbio, Desligo revela ainda uma queda de braço entre ministro do Supremo Tribunal Federal (STF), Gilmar Mendes, e o juiz federal Marcelo Bretas, responsável por julgar em primeira instância os processos no Rio de Janeiro que se desdobram da Lava Jato. Desde maio, mais de 15 pessoas presas por determinação de Bretas foram colocadas em liberdade por ordem judicial assinada por Gilmar Mendes.
Na semana passada, o ministro determinou a soltura de quatro investigados na Operação Câmbio, Desligo que cumpriam prisão preventiva: Rony Hamoui, Paulo Sérgio Vaz de Arruda, Athos Roberto Albernaz Cordeiro e Oswaldo Prado Sanches. Todos eles constam na lista dos 62 denunciados hoje pelo MPF. Eles são apontados como doleiros que atuaram na rede criminosa.
Segundo Gilmar Mendes, não havia justificativa para manter as prisões porque não houve violência ou grave ameaça nas supostas condutas criminosas. Ontem (7), ele mandou soltar Antônio Claudio Albernaz Cordeiro, que também foi denunciado, proibindo-o porém de deixar o país e de manter contato com outros investigados. "O perigo que a liberdade do paciente representa à ordem pública ou à aplicação da lei penal pode ser mitigado por medidas cautelares menos gravosas do que a prisão", argumentou o ministro.
Fonte: Agência Brasil.
The news, reports, views and opinions of authors (or source) expressed are their own and do not necessarily represent the views of CRWE World.