A morte de Maria Esther Bueno, aos 78 anos, repercute no país. O presidente Michel Temer usou seu perfil no Twitter para lamentar a morte da tenista. A Confederação Brasileira de Tênis também divulgou homenagem usando uma imagem da atleta jogando na maturidade e a frase: "Dia de luto para o tênis brasileiro. Descanse em paz, Bailarina".
"Com pesar recebemos a notícia da morte da tenista Maria Esther Bueno. Ídolo do esporte brasileiro, ficou conhecida como bailarina pela leveza e elegância nas quadras. Será sempre lembrada como a nº 1 do tênis no coração de todos os brasileiros", escreveu o presidente brasileiro.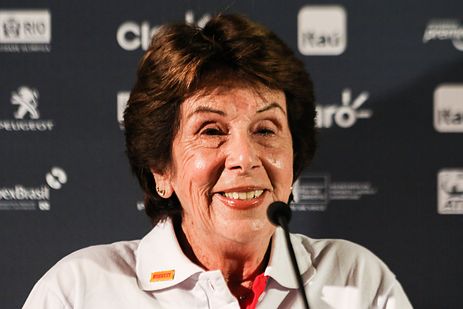 Maria Esther Bueno era chamada de "bailarina" pela forma suave do seu jogo e a elegância permanente. A CBT colocou um agradecimento à tenista nas redes sociais: "Maria Esther Bueno, obrigado pela dedicação e paixão ao esporte que nós tanto amamos".
A ex-campeã de tênis Claudia Chabalgoity, fundadora do projeto Tô no Jogo, esteve em São Paulo com Maria Esther Bueno pouco antes de ela ser internada. Segundo ela, Maria Esther matinha o entusiasmo com o tênis e era reverenciada por todos no esporte.
"O Brasil perde uma apaixonada tenista e uma apaixonante pessoa", afirmou Chabalgoity à Agência Brasil. "Estou honrada de ter conseguido estar com ela dentro de quadra em fevereiro quando ela, de surpresa, nos presenteou com sua beleza e simpatia, além, claro, de seu clássico e charmoso tênis."
Fonte: Agência Brasil.
The news, reports, views and opinions of authors (or source) expressed are their own and do not necessarily represent the views of CRWE World.