Os turistas que subiram no bondinho do Pão de Açúcar na tarde desta sexta-feira (8) vão levar de recordação não apenas as belas paisagens do Rio, mas também momentos de medo que viveram, em meio ao tiroteio entre traficantes e policiais. O bondinho teve que ser paralisado, por questões de segurança, e as dezenas de pessoas que estavam no Morro da Urca, a primeira estação do trajeto, ficaram retidos por quase três horas.
O guia turístico Júlio Teodoro recém havia subido com um grupo, quando começaram a ouvir os tiros. "A gente subiu, estava tudo tranquilo, quando por volta das 14h30, ficou pesado, parecia guerra, com os helicópteros passando. Aí parou o funcionamento e só conseguimos descer agora, estava bem tenso. É uma situação meio chata e desagradável. A imagem para os turistas é péssima", relatou Júlio.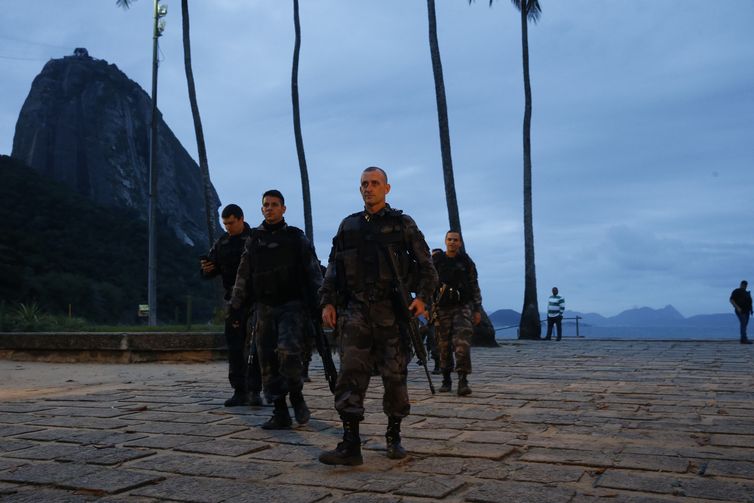 Uma das turistas do grupo era a mexicana Maria Naranjo, que veio ao Rio com um grupo de colegas, estudantes de medicina. "Escutamos os tiros, mas pensamos que eram fogos. Ficamos assustadas e com muito medo. É a nossa primeira vez em Brasil. Na Cidade do México não tem muito disso, então foi algo que nos impactou, pois estávamos muito perto do que aconteceu", disse Maria.
O chileno Juan Manoel Cortez custou a entender o que se passava, achando que o barulho dos tiros e granadas, do confronto entre policiais e traficantes, fossem apenas trovoadas. "Escutamos os tiros, mas primeiro pensamos que eram trovões. Aí nos pediram que ficássemos em um lugar seguro, no teatro que tem lá em cima. Não nos deram muitas informações, apenas que era um assunto policial e que era mais seguro ficarmos lá. No Chile não temos muito este tipo de situação", declarou Juan, que trabalha como auxiliar de laboratório e visita o Rio pela segunda vez.
Para o turista uruguaio Gonzalo Taveira, a violência urbana, se não for contida, poderá afetar a imagem do Rio e reduzir o número de visitantes. "Eu fico com muita pena, pois a cidade é maravilhosa, é muito linda, mas tem que controlar essa questão da insegurança, porque a gente fica nervoso. Ficamos dentro do auditório, mas não podíamos ir para a encosta do morro, por causa de alguma bala perdida. Estávamos muito assustados, um amigo meu ficou chorando", disse Gonzalo Taveira, que trabalha como contador.
Segundo a assessoria do bondinho do Pão de Açúcar, é a primeira vez que o serviço, iniciado em 1909, é paralisado por conta da violência urbana. 
Confronto
Segundo a assessoria da Polícia Militar (PM), O Batalhão de Polícia de Choque iniciou às pela manhã uma operação pela mata em direção às comunidades Babilônia e Chapéu-Mangueira, zona sul da cidade. Por volta das 13h, os policiais se depararam com um grupo de homens armados e houve confronto na mata. Um policial do Choque que foi ferido. Criminosos que travam disputa por território nos morros Chapéu Mangueira e Babilônia, no Leme, teriam fugido pela mata, por meio de trilhas que saem na Urca. Um criminoso foi preso durante a fuga. Policiais continuam a procura dos criminosos na região de mata fechada.
Fonte: Agência Brasil.
The news, reports, views and opinions of authors (or source) expressed are their own and do not necessarily represent the views of CRWE World.