O sexto dia de Copa do Mundo já revelou a primeira classificada para as oitavas de final: a Rússia, anfitriã do torneio. A terça-feira também marcou as últimas estreias. Pelo Grupo G, o Japão venceu a Colômbia por 2 a 1 e o Senegal derrotou a Polônia pelo mesmo placar.
Rússia avança
Na Copa das Confederações de 2017, a Rússia frustrou a torcida com duas derrotas e a eliminação na primeira fase. Os amistosos preparatórios para a Copa do Mundo também não animaram. Foram três derrotas e um empate antes do torneio. Por tudo isso, os donos da casa indicavam que fariam apenas figuração, mas surpreenderam.
A vitória de hoje sobre o Egito, por 3 a 1, garantiu sobrevida à festa russa nas arquibancadas. O caminho, no entanto, ficará muito mais difícil na fase seguinte. Ainda sem saber se ficará em primeiro ou em segundo no Grupo A, é certo que os russos cruzarão com o Grupo B na próxima fase. É o grupo de Espanha e Portugal que, ao que tudo indica, serão os classificados.
Expulsão no início prejudica a Colômbia
Até se esperava um jogo difícil contra o Japão, mas o que ninguém poderia prever é que o meio-campista colombiano Carlos Sánchez tentaria evitar o gol japonês com a mão, dentro da área, aos três minutos de jogo e acabaria expulso. Com um a menos e atrás no placar após o pênalti convertido por Kagawa, a Colômbia tentou como pôde chegar ao gol.
O empate até veio, com um gol de falta à lá Ronaldinho Gaúcho. Mas os japoneses mostraram força ofensiva e marcaram o segundo gol.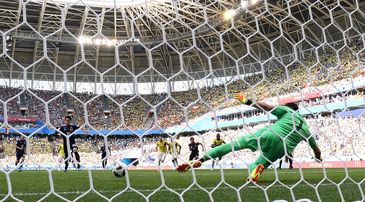 Os japoneses comemoraram muito a vitória por 2 a 1 a primeira de uma seleção asiática sobre uma sul-americana.
Em um dos grupos mais difíceis de prever, o Japão deu um passo importante para a classificação.
Senegal vence na estreia mais uma vez
É a segunda Copa do Mundo disputada pelo Senegal. É também a segunda vez que enfrenta uma seleção europeia na estreia e a segunda vez que vence. Se em 2002 os então campeões, a França, foram derrotados, desta vez foi a Polônia que sofreu com um futebol rápido e oportunista.
O craque Lewandowski pouco fez, preso na boa marcação do time africano. A Polônia não jogou bem. No primeiro gol senegalês, um chute defensável de Gueye desviou no zagueiro brasileiro naturalizado polonês, Thiago Cionek, e matou as chances de defesa do goleiro Szczesny.
O segundo gol de Senegal foi uma trapalhada coletiva dos poloneses. Ninguém conseguiu entender por que o meia Krychowiak, com a bola no campo de ataque e o time todo avançado, resolveu dar um recuo para a defesa. Pegos de surpresa, o goleiro e o zagueiro foram presas fáceis para o veloz Niang. Ele havia acabado de ser autorizado pelo árbitro para voltar a campo após atendimento médico e, por isso, estava completamente desmarcado. Bastou ganhar na velocidade, tirar os poloneses da jogada com um toque na bola e depois, completar para o gol vazio.
 
Fonte: Agência Brasil.
The news, reports, views and opinions of authors (or source) expressed are their own and do not necessarily represent the views of CRWE World.